But is it waterproof? Robert Scoble needs to know.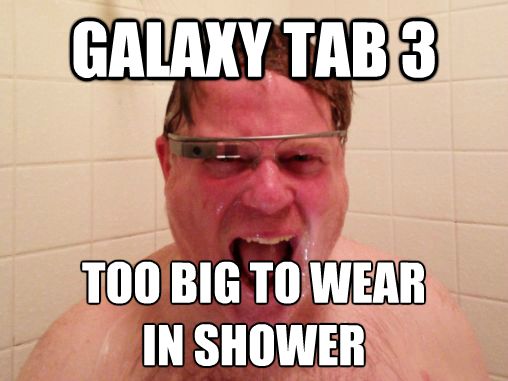 Samsung unveils its budget 7-inch Android tablet. With a thin and light form, long battery life, but so-so screen and processor specs, is it a Nexus 7 killer?
In IT Blogwatch, bloggers bring their BYOD brains.
Your humble blogwatcher curated these bloggy bits for your entertainment.
Mat Smith has the official 411:
The Galaxy Tab 3 has gone official and [it] arrives with a 1.2GHz processor, 8GB or 16GB of storage...a 3- and 1.3-megapixel camera array and a substantial 4,000mAh battery.

...

That 7-inch WSVGA (1,024 x 600) TFT display suggests it's likely to be a keenly-priced slate. ... Samsung's loaded up the Galaxy Tab 3 with Android 4.1 and says that the WiFi version will launch "globally" in May, while an incoming 3G model...(it'll be able to make calls) will follow in June.  MORE
"Keenly-priced"? Luke Westaway prefers "boring":
[This] latest effort is unlikely to have Google's popular tablet quaking in its boots...the hardware on offer doesn't exactly set our hearts aflame.

...

1,024x600...is lower than the Nexus 7's 1,280x800 pixel count. ... [Its] dual-core processor [is] not as powerful as the quad-core silicon nestling inside the Nexus 7. ... Android 4.1 [is] an older version of Jelly Bean than you'd get on the...Nexus 7.

...

Samsung could still make it worthwhile though, if it slaps a super-cheap price tag on its new toy.  MORE
And Richard Devine agrees, saying it "has more than a whiff of the mid-range about it":
The display is somewhat disappointing. ... The cameras too are on the low end of things.

...

All this adds up to what should be a keenly priced tablet [but] No pricing has been announced at this time.  MORE
So here's Anti-Star Super-Christ's plan:
The only tablet I'm looking forward to is the new Nexus 7. Samsung has become the new Apple, and has settled into just reproducing the same old ****...in an effort to play it safe with consumers. It's sad, really. I guess it's up to HTC or Asus now.  MORE
But Nick Summers leaps to its defense:
[It'll have] Samsung's TouchWiz skin and plethora of apps and services plastered on top. This includes Music Hub, Game Hub, Video Hub and Learning Hub, as well as Samsung's ChatON instant messaging client.  

...at just 9.9mm thick, it's a pretty slick-looking device.  MORE
What's next? Hugh Langley knows:
But don't forget that we're also expecting the imminent arrival of the 10-inch Galaxy Tab 3 Plus, which is rumoured to be packing a more impressive...processor and 2,560 x 1,600 resolution display.  MORE
Meanwhile, Robert Triggs brings rumors of future Samsung tablets:
A whole list of Samsung tablet related rumors has popped up this morning, regarding the Tab DUOS, Tab 8.0 AMOLED, Tab 11 Super PLS TFT, and the Nexus 11. ... In typical Samsung fashion, [it] has designed a wide range of new products [for] virtually every consumer that Samsung can dream up.  

...the part I found most interesting [is] the Nexus 11. ... Samsung's Nexus 11 still needs approval from Google, so this certainly isn't concrete evidence. ... But if true...the Nexus 11 will be the world's first octo-core tablet, as it will feature an Exynos 5410 processor.

...

Spot anything that interests you?  MORE
Computerworld Blogs Newsletter
Subscribe now to the Blogs Newsletter for a daily summary of the most recent and relevant blog posts at Computerworld.