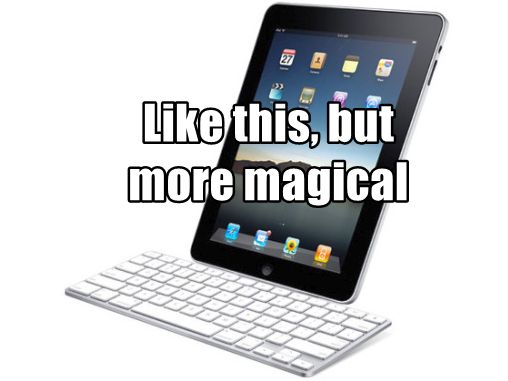 Apple to reinvent the Surface Type Cover?
Apple (NASDAQ:AAPL) is rumored to be readying an iPad cover with a built-in keyboard. Microsoft Surface fans are no doubt suffering a severe case of déjà vu right now.
In IT Blogwatch, bloggers ponder Apple's "a lot to cover" punnage.
Your humble blogwatcher curated these bloggy bits for your entertainment.
Och aye the noo, it's Jamie Ryan:
I've been speaking to a couple of people at Apple for the last few days and they have told me that a case...that mimics Microsoft's touch cover has been prototyped [and] a few different styles had been in testing for a while. ... Apple already sells a Bluetooth keyboard that functions perfectly with the iPad but it's not quite as integrated as Microsoft's.

...

I'm told other cover like accessories are also being looked at. ... I'm very curious to see if these are introduced on Tuesday.  MORE
Rik Myslewski wonders if ecosystem partners will be trampled:
This rumor comes courtesy of Edinburgh blogger Jamie Ryan, formerly in developer relations for Apple. ... If iPad keyboard covers do ever hit store shelves...they'd help the 9.7-inch iPad differentiate itself from its little brother.

...

Apple also sells a third-party wireless keyboard...Logitech's $99.95 Ultrathin Keyboard Cover for iPad. ... There are also a plethora of other third-party iPad keyboards and keyboard cases available. ... Apple hopes to cash in on satisfying iPad users who want to get text into their beloved Cupertinian tablets.

...

After all, we're merely dealing with unsubstantiated rumors, eh? ... Apple may or may not release new iPads that may or may not include keyboard covers that may or may not have full-travel keys that may or may not improve typing accuracy.  MORE
And Nick Farrell goes with the obvious angle -- Apple is "copying Microsoft again":
Since Apple stole the idea of a tablet from Microsoft it has been desperate...to convince punters that it is an innovator. ... It will order its tame press to insist that the idea of putting a keyboard on a tablet was all the idea of Steve Jobs and will tell its fanboys to attack anyone who says otherwise.

...

Meanwhile Redmond is already going on to stage two of its Touch Cover.  MORE
But Saiyan has a Super recollection:
Apple filed a patent application titled "Cover attachment with flexible display"...about 10 months before Microsoft announced its Surface tablet with keyboard cover. ... [It] shows a perspective view of a tablet device with a keyboard and touch screen integrated into the flap portion.

...

Apple distorted space-time continuum and traveled back in time?  MORE
Meanwhile, Jason Hiner follows the money:
Apple isn't going to stand by forever and watch accessory-makers gobble up all the profits from what has turned out to be a highly-lucrative iPad add-on. ... Since Apple always charges a premium for its branded accessories, we should expect an Apple keyboard cover to cost at least $99 to $149.

...

In 2012, Apple made over $2.5 billion in net sales from accessories. ... It's no secret that the accessories market has high profit margins. ... With the announcement of the 2013 iPad line on Tuesday, don't be surprised to see Apple attempt to...grab a piece of this lucrative accessory market with a premium solution.  MORE
Computerworld Blogs Newsletter
Subscribe now to the Blogs Newsletter for a daily summary of the most recent and relevant blog posts at Computerworld.