Apple [AAPL] has despatched invitations to its much-hyped October 22 special event, with the smart money predicting new iPads, Macs and perhaps more from Cupertino next week.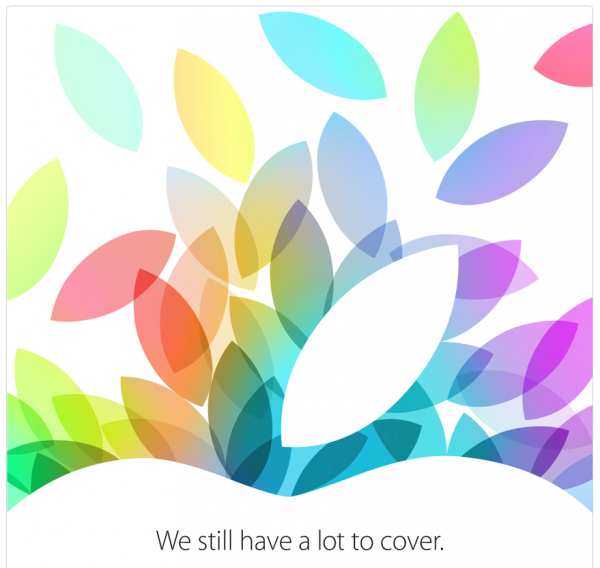 A lot to cover
The event is critical to Apple as it addresses reported decline in Mac sales as consumers sit back for the upgrades global media have been anticipating for months. It seems likely Apple's bean counters are seeing a similar pattern in iPad sales.
The deliberate decision to delay new product releases across the majority of 2013 may have been strategic, but it was certainly entered into with some expectation as to its likely consequences.
The invitation casts its usual allure: like a Jony Ive design it is understated. It tells the whole story in hindsight, but only offers glimpses before the products are announced.
What do I mean?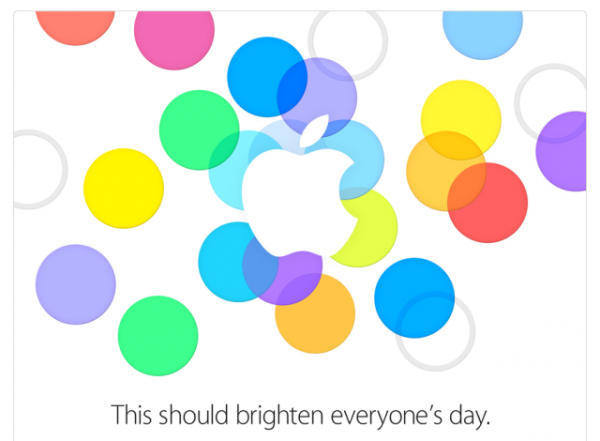 Take a look at the iPhone invitation from last month. It promised only: "This should brighten everyone's day." We took this to mean references to new color iPhones and -- as anticipated pretty much universally at that time -- lower cost iPhones.
In retrospect we see the colors were delivered as promised, but the grey circles likely were designed to reflect the introduction of Touch ID.
Consider last year's invitation for Apple's October 23 event. That's where we were introduced to the iPad mini. The invitation said: "We've got a little more to show you." The Apple logo was surrounded by color. This time round we also got a new MacBook Pro and new iMacs.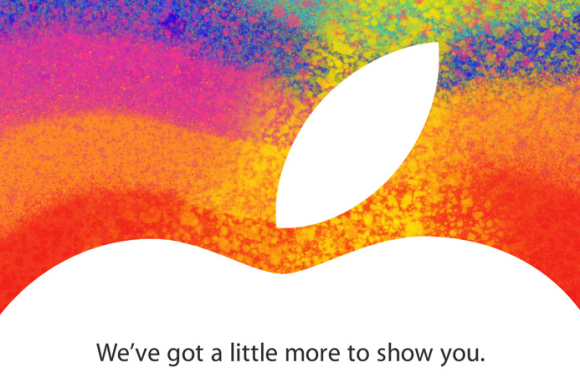 Hindsight's always better in advance
The latest invitation (first image at the top tells us: "We still have a lot to cover". It features colored Fall leaves. The logo is there of course -- this time round we see the leaf from the Apple in white with the leaf motif repeated in multiple colors across the rest of the image used.
It's possible hindsight will tell us the invitation posed more questions than it answered:
Might the company introduce a colored iPad mini range?
Might we see a return to color in its Macs?
We will learn soon, but foresight doesn't suggest either plan as highly likely.
What we can expect, given the company's move to launch new iPads and Macs this time last year seems remarkably obvious: We can expect new iPads and Macs!
This is clearly in line with what we've all been predicting, and will inevitably bring a couple of unexpected treats. These treats may not be life-changing, but could be welcome all the same:
Might Apple move to offer iWork for free with all new iPads (and possibly Macs) in future as it seeks to consolidate its hold on the enterprise markets while -- in conjunction with iWork in the cloud (clearly destined for imminent introduction, given the huge public beta test the company has been engaged in)?
What's Apple's 4K future?
Will Apple introduce a 4K display to accompany its Mac Pro? It seems inevitable it will -- at least eventually -- and this will be among the highest resolution affordable computer displays on the market. It may not be the cheapest, but it will be a wonderful stage on which to look at color. It matches some of the market rumors for the company to do this.
Why should Apple stop there?
So many of its pro users already use a MacBook Pro as their main machine for Final Cut edits: with this in mind, why would the company not pop a high-resolution display inside its portable Macs? I can see no reason not too, given the desktop pro Mac's support for high resolution. I think a resolution upgrade is more likely (this year) than widespread deployment of TouchID in Macs, though I think that's in the plan.
Along with the new Macs, Apple seems primed to introduce its new OS, Mavericks. It seems likely this will appear around the same time as the new event takes place, with any new Macs staggered to ship in the months subsequent to this.
One more thing: Given Apple seems intent on deploying an ecosystem capable of supporting its future television plans (a mass market ultraHD film rental and download service being part of these), it seems likely the company will also transition its iPads -- and possibly its iPhones -- to support higher than Retina Display resolution.
There's no immediate urgency to do this, of course -- as Apple frequently has pointed out, the resolution (in terms of on-screen pixels) of an iPad's Retina Display already exceeds those you get in an HD TV.
However, you have to see these things in light of the competitive environment. In the current environment the company is likely to use any tool logically available to it with which to define its products as being superior to those that compete with them. Which it does a pretty good job at, to be fair.
So there you have it. The leaves are falling and Apple's preparing to put a little love into its Mac line, which, incidentally, clearly include its Macs and -- reading between the lines -- the next-generation eventual Mac replacement we call today, "iPad".
Next year -- as 4K hits prime time -- we will likely see the TV to run it all and (possibly) an iWatch designed to seize the market originally defined by the iPhone.
Should be a good event. I got my invite. I'll let you know what I learn as Apple announces it, if I can.
Google+? If you're one of those who likes to use social media and also happen to be a Google+ user, why not join AppleHolic's Kool Aid Corner community and join the conversation as we pursue the spirit of the New Model Apple?
Got a story? Drop me a line via Twitter or in comments below and let me know. I'd like it if you chose to follow me on Twitter so I can let you know when these items are published here first on Computerworld