What could possibly go wrong with a fire-powered portable battery charger?
The concept is simple. A blade, which sticks out of the FlameStower over a fire, transferrs heat from the flame to a Thermoelectric Generator (TEG). On the opposite side of the TEG from the blade is a reservoir that you fill with water. The TEG is hot on one side and cool on the other, and the difference in temperature creates electricity.
Confused? Here is a step-by-step breakdown on how to use it:
Buy a FlameStower.
Set up your FlameStower.
Find a fire. Gas stove, Bunsen burner, canister of leaking gas with a lighter over it will all do fine. If you can't find some fire, build one yourself. (Geeks who need help learning how to build a fire, you can find some tips here.)
Put your FlameStower over the fire. Fill the reservoir with water.
Plug in your USB device and watch it charge.
Get down with your environmental self and use any left over water from the metal reservoir for a lovely cup of tea.
Great idea, right! This isn't a potentially dangerous situation at all. But just in case you're not thinking this completely through, here are a few suggestions of what NOT to do with a FlameStower.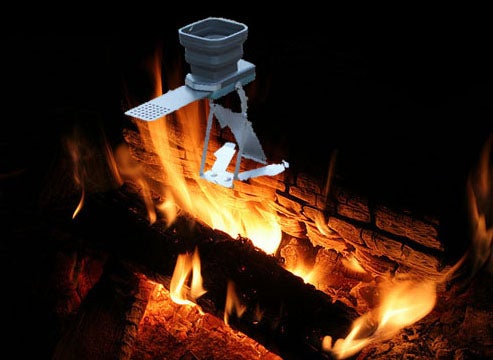 Don't drop your phone in the fire.
Don't do this drunk.
Don't burn yourself on the fire.
Don't touch the FlameStower for a while after your device is charged.
And really, don't drop your phone in the fire.
In all honesty, this seems like a cool device, perfect for situations where you don't have access to electric power or the sun for solar-powered charging devices (like during storms or at night). Their Kickstarter campaign, which ends October 24, has already reached 300% of its goal, because evidently pyromaniacs abound the world over.
So go ahead, fire fanatics, charge your smartphone with fire! Just watch out, it's hot.