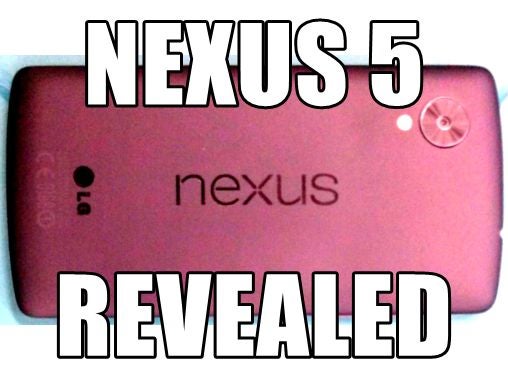 'But when is the release date?' they cry.
Android-watchers rejoice! Here's a long video that appears to show the Nexus 5 in detail, from every angle. And here are a bunch of screenshots, showing Android 4.4 KitKat running on the flagship phone.
In IT Blogwatch, bloggers obsess over specs and rumors.
Your humble blogwatcher curated these bloggy bits for your entertainment.
Artem Russakovskii breaks news:
A crystal clear 7-minute video of the Nexus 5...was just leaked. ... it's the Nexus 5 hardware in the clearest shots we've seen yet!

...

It's worth taking a peek at it just to see a close-up of those sexy dual bottom-firing speakers.  MORE
Chris Burns peers intently:
Up front, this device works with a lovely and massive display. On the back, you'll find a large camera lens, likely there for optical image stabilization.

...

This piece of hardware continues to appear to be based on the LG G2.  MORE
Is Steve Lauterbach Scottish?
I was looking for something here to really wow me, but I didn't see it. The build quality doesn't look to be all that impressive...this isn't blowing my skirt up.  MORE
mwara244 hopes for a smoother ordering experience this time:
I think the Google event is Oct 14 monday, so it should be out by the end of the month or sometime in November.

...

Hopefully LG won't **** up the production like they handled the Nexus 4 and not mass producing it. It took LG 9 months just to produce 400 K units. ... They clearly showed they didn't have the production strength to make multiple devices in masses all at once.  MORE
What about the software? The video shows an old build, but Ron Amadeo analyzes some Italian pictures:
These are the first images that really show...KitKat. It looks like there will be a lot less black, less blue, and more transparency.

...

The lock screen [adds] a camera icon in the lower right corner. ... The notification and system bars have taken a cue from Motorola's skin and are now transparent. ... The SMS app, normally called "Messaging," is missing in action. ... Hangouts in this build supports SMS, so it looks like that will be replacing the stock SMS app.

...

KitKat will always be listening for voice commands, similar to the Moto X. ... The Snapdragon 800 ships with hardware for a voice control enabled standby mode, just like the Moto X.  MORE
And Jacob Kleinman adds:
Android 4.4 KitKat...includ[es] a new mobile payments feature. It's unclear exactly what the..."Tap & Pay" feature will do or how it might work, but we're most likely looking at an NFC-based system.  MORE
NFC? Jonny Evans says there's no future in that:
Who in what has become our heavily-taxed, under pressure, penny-pinching, work-seeking, careful shopping, luxury-avoiding, pleasure-denying, slightly desperate, depressed, TV-addicted, hopeless, leaderless, anti-intellectual culture that's enduring the longest recession for 100-years actually wants to swap the cash in their pocket for invisible money in the sky?

...

NFC is a battery hog...it's insecure...the standard isn't universal, and even within the pro-NFC lobby the usual stupid corporations who claim to be supporting it can't seem to leave their ego outside of their focus group-driven strategizing meetings for long enough to actually agree to pull in the same direction.  MORE
Meanwhile, Seth Weintraub adds to the usual chorus:
All we need now is a release date.  MORE
Computerworld Blogs Newsletter
Subscribe now to the Blogs Newsletter for a daily summary of the most recent and relevant blog posts at Computerworld.