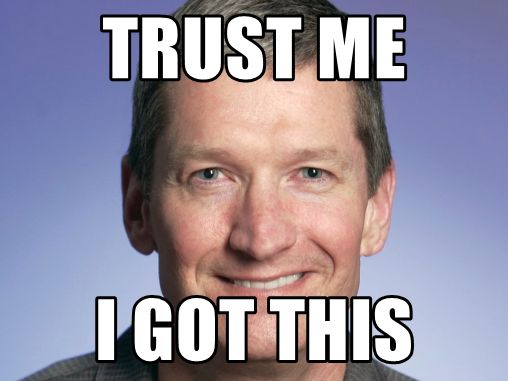 Apple strategy under question.
Apple (NASDAQ:AAPL) may have investors' questions to answer, as reports come in from China that the iPhone 5C isn't selling well. The gray-market price of unlocked devices has fallen to as low as $425, and production is reportedly being slashed by 50%.
In IT Blogwatch, bloggers continue to question Tim Cook's "expensive cheap iPhone" strategy.
Here's Stasys Bielinis' view:
When Apple announced the official price for iPhone 5c...it was a huge disappointment. It simply didn't fit with the narrative [of a] cheap(ish) iPhone for China. ... Still, there was this sense of lingering doubt. What if Apple is on to something? ... In less than a day Apple fan blogs were full of the reasons of why iPhone 5c is a great idea.

...

It wasn't. ... The data trickling in from Chinese grey market is not good.  MORE
The words of Wang Xiao and Chu Yufeng are hopefully not too lost in my Google-mediated translation:
The iPhone 5c gray-market price continues to tumble. [The] lowest price has dropped to [$425], with an average price of [$490].

...

Some analysts believe the plunge harms Apple's high-end image.  MORE
Bryan M. Wolfe calls it "very bad news":
Apple's iPhone 5c [is] a huge disappointment. ... The Chinese gray market is so unimpressed with the iPhone 5c that models on the street are going for 30 percent below retail.

...

The iPhone 5c isn't a bad device. Rather...it was priced completely wrong. [It] is simply the iPhone 5...with a less expensive cover...in a controversial set of colors. This [makes] the iPhone 5c a tough sell.  MORE
And Anthony Cai has more bad news (also translated):
On October 10, we learned from insiders that Apple has begun to reduce iPhone 5C capacity, because of dismal sales. Average daily production was previously 300,000, but has now been reduced to 150,000.

...

Poor sales is not a bad thing for consumers: We have seen gray-market prices drop significantly over time!  MORE
But Eric Slivka puts a different perspective on it:
Apple is reportedly cutting iPhone 5c production in half from 300,000 units to 150,000 units per day.

...

While a decrease in...production would be a signal that Apple has plentiful supplies...it is not necessarily an indication that [it] significantly overestimated demand. [It could] have been part of Apple's strategy all along.  MORE
Meanwhile, Chris Burt doesn't mince his words:
They were stupid to even make the 5c, what they should have done was continue to create [the] iPhone 5. ... Instead they've created an ugly phone and put last gen's hardware in it, well done Apple... well Done.

...

I guess it does show though the Sheeple may be stupid but not that stupid!  MORE
Computerworld Blogs Newsletter
Subscribe now to the Blogs Newsletter for a daily summary of the most recent and relevant blog posts at Computerworld.