Surprising no one, when it comes to speed and responsiveness, Apple [AAPL] devices are sports cars while those from other firms are family saloons, according to independent tests.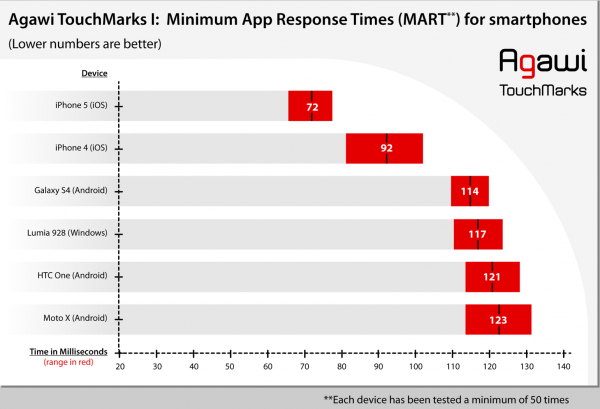 Setting the standard
Agawi has run a series of speed and responsiveness tests on key devices from across the big mobile platforms. Smartphones and tablets tested included devices from Apple, Amazon, Nokia, HTC, Samsung, Motorola and Google's Nexus 7.
The tests didn't include the latest iPhones, but did include the iPhone 5 and two-year-old iPhone 4, both of which smoked the competition, including flagship devices such as the Samsung Galaxy S4, Nokia Lumia 928, HTC One and the slowest performer, the Moto X.
Agawi also tested tablets to find the Galaxy Tab 3.8.0 to be the slowest responding tablet out there in a field led by the iPad mini and iPad 4, both of which proved twice as responsive as Samsung's device.
What this means, of course, is that Apple's year-old devices remain significantly faster and more responsive to touch than some of the recent cream of the Android and Windows crop.
Agawi researcher, Rohan Relan, told The Guardian:
"Basically we found that Apple's iOS performed nearly two times better than Android," Relan told the Guardian. "The findings were surprising to me because Samsung makes the hardware, but it was the worst by a large margin in our tests."
Why this happens
It's not so surprising, really. These findings underline the significant performance advantages you get when the hardware developer also develops the software. This "whole widget" approach enables creation of devices custom-made to run software efficiently. At present this is one of Apple's great advantages.
This advantage is fundamentally unavailable to other manufacturers. True, the tests do show that Windows-driven mobile devices are better optimized than those running the Android OS, both classes of device are unable to offer the core-based efficiencies you get with an iPad or iPhone.
This isn't a deal breaker, of course: just like cars most consumers will get the vehicle they can afford that offers them the best balance of efficiency and affordability. If, however, you use your mobile devices for latency-sensitive applications, such as professional imaging, interactive music apps or games, then you're better off with an iPad or iPhone, the researchers claim.
Because Android manufacturers don't design the OS they are not in the position to emulate Apple's core efficiencies. So, for example, a Samsung device may use a similar display and ARM-based processor, but it is unable to match Apple's solution because its software is developed elsewhere and bolted on.
Another key disadvantage comes in that Android devices run apps based on a complex Java hybrid, which most Internet users by now recognize as a buggy solution. (Java support isn't even enabled in the base OS X system on Macs). This naturally impacts app performance.
The inherent performance disadvantages within the platform have seemingly caused some in the Android hardware development community to deliberately tweak their systems in order to achieve higher benchmark test scores. It is unfortunate that such tweaked benchmarks don't equate to real world performance gains for those consumers who might believe these results.
The gap ain't narrowing
This performance and responsiveness gap is likely to become wider now Apple has hit market first with 64-bit systems. It is noteworthy that the Apple systems tested by Agawi are all around one-year old. The newly-introduced iPhones and the looming iPad upgrades all run faster and more efficient A7 processors, accompanied by much faster Rogue graphics capabilities (which I predicted in April, by the way).
These new processors in tandem with the hardware support couched inside iOS 7 mean initial reviews of iPhone 5S performance have been glowing:
"For example, Germany's Algoriddim has seen a doubling of speeds for the audio processing and analysis of its djay 2 app for the iPhone, according to CEO Karim Morsy. This "not only makes the whole UI and animations run smoother but also allowed us to introduce new features and effects that weren't possible before," Morsy told FierceMobile.
"Technologies that were formerly reserved for professionals are now available to consumers because of the 5s. It's pretty incredible," Jeff Smith, CEO of music app developer Smule, told AppleInsider.
That's on iPhones -- it will be interesting to see what performance tweaks Apple will be able to apply to the version of the processor included within its future iPads. It's possible, for example, that the A7 chip will be made available in an "X" version, offering even more performance improvements made possible by the larger heat sink available within a larger device.
Buying advice
The message for people in the market for a new phone or tablet couldn't be clearer: unless you choose not to use Apple's solutions, the best performing, fastest and most responsive smartphone is an iPhone 5S, while the best tablet will in future be the new iPad.
This means consumers attempting to decide between an Apple device and a similarly priced premium configuration from another manufacturer should be made aware that on the basis of speed and responsive performance, Apple's device are sports cars that smoke the competition, according to independent tests. (And they're safer, too).
Google+? If you're one of those who likes to use social media and also happen to be a Google+ user, why not join AppleHolic's Kool Aid Corner community and join the conversation as we pursue the spirit of the New Model Apple?
Got a story? Drop me a line via Twitter or in comments below and let me know. I'd like it if you chose to follow me on Twitter so I can let you know when these items are published here first on Computerworld