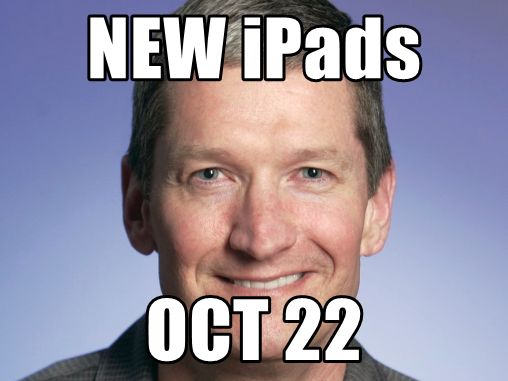 Is Tim Cook evil? That's what bloggers are asking.
Apple (NASDAQ:AAPL) is expected to launch its new iPad 5 and iPad Mini 2 devices later this month. But did Apple deliberately choose the iPad launch date to stomp all over Microsoft's Surface 2 release date and Nokia's tablet launch?
In IT Blogwatch, bloggers debate both sides.
John Paczkowski pokes fun at "people familiar with the matter":
Apple...will hold its next invitation-only event on Tuesday, October 22. ... The fifth-generation iPad is expected to feature a thinner, lighter design...an improved camera [and] Apple's new 64-bit A7 chip. The second-generation iPad mini will [get] a retina display and also likely see the A7.

...

Sources declined to specify where the event is to be held. ... Apple's Town Hall Auditorium in Cupertino and the Yerba Buena Center for the Arts in San Francisco [are] the two most likely locations.  MORE
A retina Mini? Impossible! Not, says David Hsieh:
Apple is a strong believer in high resolution, wide color gamut and wide viewing angle displays. ... However, rapid developments in technology and manufacturing of LCD and OLED displays have challenged Apple's leadership. ... Apple was once the initiator of advanced displays, but now has become a follower.

...

Apple is planning to revamp nearly all of the displays in its products over the next year. ... A device with high resolution screen but without high-resolution GPU and OS capabilities is like a soldier driving a powerful tank but using a sword to fight. What Apple does better than any company is integrate the hardware and software.

...

With the rapid evolution of technology and expansion in manufacturing capacity, advanced displays are more accessible, and it is necessary for Apple to bring its supply chain to the next level.  MORE
Sooo... 10/22, you say? Let's check in with Jim Dalrymple:
Yep.  MORE
Oh, OK. Perhaps Mark Gurman has more detail to add?
yep.  MORE
Grrr. But John Gruber dares to call the date "obvious":
It coincides with last year's announcement schedule. Apple is a company of patterns.

...

Paczkowski's reporting that the iPad Mini is...getting the A7. The current Mini is running the A5, so if Paczkowski is right, the Mini is going to skip an entire generation. I know nothing about Apple's plans [but] I find that unusual.  MORE
Yet Vlad Bobleanta is... easy for you to say:
Remember Nokia? ... Once again a competitor decides to crash its party. ... And when Apple holds an event on the same day as you, you should know you're doomed.

...

October 22 is also when the Microsoft Surface 2...tablets will become available. So here's Apple crashing not one, but two parties with one stroke.  MORE
But David Hsu begs to differ:
Take last year's Oct 23rd and align it to a Tuesday, you get Oct 22nd this year.

...

Nokia have had a whole year to avoid this date, and now it's Apple's fault?  MORE
Meanwhile, G'day, GTR:
Good Lord. What is that ghastly screaming sound?  

Oh. It's my wallet.  MORE
Computerworld Blogs Newsletter
Subscribe now to the Blogs Newsletter for a daily summary of the most recent and relevant blog posts at Computerworld.