Tim Cook 'fesses to latest pomaceous scandal.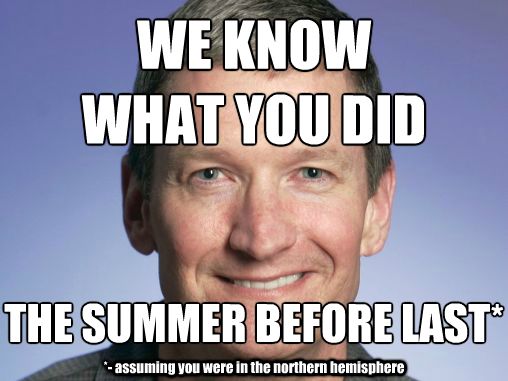 Apple (NASDAQ:AAPL) has been forced to admit to the ACLU that it's been keeping your Siri queries for as long as two years. The revelations include assurances that the data are "anonymized," but that's not dulling critics' knives, which are very definitely out.
In IT Blogwatch, bloggers feel a little queasy about that.
Your humble blogwatcher curated these bloggy bits for your entertainment.
Robert "Bob" McMillan scoops the poop:
All of those questions, messages, and stern commands...are stored on Apple servers for up to two years. ... This is the first time that Apple has said how long it's keeping Siri data, but according to...the American Civil Liberties Union...there's still more that Apple could do.

...

Whenever you speak into [Siri], it ships it off to Apple's data farm for analysis. Apple generates a random number to represent the user. ... Once the voice recording is six months old, Apple "disassociates" your user number from the clip. ... But it keeps these disassociated files for up to 18 more months.  MORE
Jasper Hamill rents a quote or two:
Nick Pickles, director of pressure group Big Brother Watch, spoke out [saying] Apple needs to be open and honest about what it does with these queries and requests. ... "There needs to be a very high justification for retaining such intrusive data. ... As consumers become increasingly concerned about their privacy, companies cannot afford to keep their customers in the dark."

...

Nicole Ozer, a lawyer with the [ACLU] wants Apple to make its Siri privacy statement a lot more obvious. ... "There is no good reason for Apple to not include information about privacy practices on their Siri FAQ page."  MORE
Erica Ogg is compressed:
The two-year mark is six months longer than Yahoo, Microsoft and Google...which retain search data for 18 months.

...

[It] may make some users uncomfortable, so the ACLU thinks Apple should make that more clear before they start using the service.  MORE
Why should we care? Jacqui Cheng offers this colorful metaphor, Admiral:
Remember that time when you asked Siri about the nearest place to find hookers? ... Whatever you've been asking Siri since its launch in late 2011 is likely still on record.

...

people should be cautious about using Siri [for] any sensitive information. ...the data retention aspect is an important one to keep in mind. ...the [data] are deleted immediately...when a user turns Siri off on his or her device.  MORE
Meanwhile, Dan Moren sarcastically mocks McMillan's headline:
Apple Finally Reveals How Long Siri Keeps Your Data

...

Finally. These concerns over how long Siri retains your data have been raging, unanswered, for all of 24 hours.  MORE
Computerworld Blogs Newsletter
Subscribe now to the Blogs Newsletter for a daily summary of the most recent and relevant blog posts at Computerworld.