In the event Apple [AAPL] actually does introduce such a device, the iWatch seems set to deliver the same level of success as the iPod before it, that's the news coming out of the latest consumer research survey from Changewave.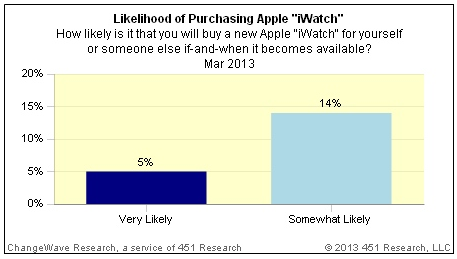 Big demand for new Apple gadget?
The researchers last month asked 1,713 people what they feel about the unreleased, unannounced but much discussed Apple product, and found a similar number of consumers were interested in the device as were they interested in the iPad.
"Apple's track record of delivering ultra-convenient, easy to use products with a perceived 'cool factor' is driving pre-release demand for the rumored Apple 'iWatch,'" said Andy Golub of 451 Research's ChangeWave service. "While an 'iWatch' doesn't yet exist -- and if it ever does it will have to live up to super high expectations -- it has the potential to be another huge success for the Cupertino, CA manufacturer."
Attempting to determine what shoppers feel about the device makes sense -- after all, every analyst, pundit and prestidigitator already has an opinion on the device, and each one of Apple's competitive followers has already whispered of their intention to release a similar device, which on previous form will likely follow the introduction of the Apple product.
The device's expected to sync with an iPhone in order to handle jobs such as making calls, texting, interrogating Siri or controlling iTunes playback. It's also possible the iWatch (if it is called thus) will be an independent device, capable of running some of these tasks, though the technology to achieve such a system may not be available yet.
In its attempt to figure out how interested consumers are in such an "iGadget," Changewave gave respondents a brief description of the first list of features and asked them how likely they'd be to buy the thing.
"The survey results show very strong consumer interest – with 5% of respondents saying they are Very Likely and 14% Somewhat Likely to buy an "iWatch" for themselves or someone else," Changewave said.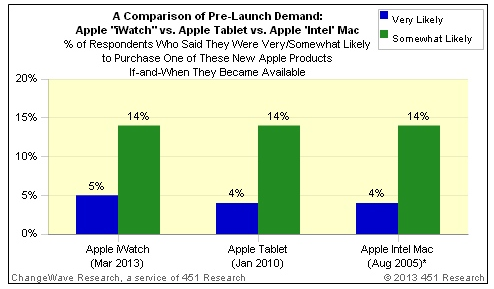 Similar demand to iPad, Intel iMac
What's important here is that consumer interest in this new device in this new category is just about as high as it was for the company's iPad when demand was assessed in January 2010 (before it was introduced).
"The pre-release findings for the Apple 'iWatch' are nearly identical to consumer interest in the Apple Tablet (Jan 2010) and Apple Intel Mac (Aug 2005) before each were officially announced."
In a surprise to no one, Changewave found Apple product owners to be five times more likely to buy an "iWatch" compared to those who do not own any Apple products (25% vs. 5%).
Apple's brand loyalty was one of the big reasons 18% of consumers felt this way, with convenience (16%); Cool Factor (14%) and ease of integration with other Apple products also tempting consumers (11%).
The situation looks good for Apple's thrust into this new market -- but Changewave's research also confirms Samsung continues to dominate the smartphone market, with one in four planned smartphone purchasers (27%) indicating they will buy a Samsung device. Indeed, interest in Samsung's phones is at the highest point yet.
It's not a washout for Apple. The company still leads all manufacturers in terms of North American demand in our survey, with two-in-five respondents (40%) who plan to buy a smart phone in the next 90 days saying they'll get an iPhone.
Samsung's Galaxy range may be tempting consumers, but when it comes to product satisfaction, Apple continues to impress -- 70 percent of iPhone owners say they're very satisfied with their phone, compared to 54 percent who feel that good about their Samsung device. Interestingly, Nokia gains a 51 percent satisfaction level. In comparison, Blackberry achieves 31 percent.
What is interesting is that the usual Apple haters are already looking for reasons to dismiss the device, with at least one report pointing out that while 19 percent of consumers may be interested in the thing, the majority of shoppers remain to be convinced. That's a tedious little argument when put into historical context, after all, the iPad very quickly moved to become a consumer favorite, dominating its category since introduction despite possessing a similar level of pre-release interest. I'm sure they'd be better off applying their acid wit at other companies, in the hope they can convince them to innovate just a little more. It still makes sense to me to demand the best from those you choose to champion. 
Apple board member fans expectation
The hype means hope but doesn't mean certainty -- there's still a chance we've been chewing on a false flag rumor and Apple has no intention of introducing such a device, however recent comments from Apple board member and Intuit chairman, Bill Campbell, suggests the company is most certainly looking into the wearable tech sector.
While he didn't name the company, he did warn listeners to look forward to: "A lot of things going on with the application of technology to really intimate things."
Pointing to Google Glass, he said: "It's a phenomenal breakthrough. When you start to think about glasses or watches, they become as intimate as the cell phone was." (Helpfully I popped a video clip of his chat just above.)
I've written extensively on M2M and wearable computing in the past, and hesitate to repeat myself too much: however, when you consider Apple's licensing of LiquidMetal technology, its status as a chip designer and its continued experiments with new components, such as flexible displays, it seems pretty clear the company vision extends to manufacturing of all manner of connected consumer devices.
After all, wasn't Apple co-founder, Steve Jobs, always a fan of Sony?
Clearly offering a range of computer-like devices across multiple market segments was always part of the plan, it just had to wait for the technology to catch up. Though I'd still rather like an Apple iBike…
Got a story? Drop me a line via Twitter or in comments below and let me know. I'd like it if you chose to follow me on Twitter so I can let you know when these items are published here first on Computerworld.