HTC One: To buy or not to buy?
Spring is in the air, my friends -- and for those of us tempted by technology, that means it's time to start looking at the latest lust-worthy devices to see which wins our heart.
The most recent entry to the Android cathouse is the HTC One -- a sleek and stylish phone from the folks who brought us last year's outstanding One X and One S devices. HTC may not have the same brand recognition or advertising savvy as Samsung, but don't let corporate marketing shape your opinions: Just like the One X in 2012, the HTC One promises to be one of this year's most impressive smartphones -- whether mainstream shoppers realize it or not.
As I'm wont to do with newly released devices, I opened my arms to the One and embraced it, using it in place of my own personal phone and getting to know it intimately for several days. (And yeah -- you'd better believe there was some heavy petting involved.)
You can read my in-depth review for the full scope of my experiences and a detailed look at the phone's pros and cons. Here, I want to focus on some comparisons and think about how the HTC One fits into the broader Android ecosystem.
I've seen a lot of lazy superlatives used in evaluations of the One. Various sites have said it's "hands down the best Android phone around," "the most beautiful Android phone ever made," "the Android that could crush the iPhone," and -- yes -- even "the smartphone that changes everything" (seriously, guys?!).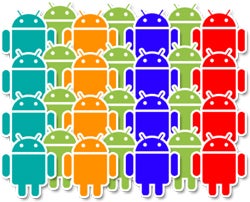 I'm not going to insult you with those sorts of hollow and sensational statements. The truth is that the One is an extremely well-made phone with a lot of positive qualities. But as anyone who actually uses Android knows, the platform has an evolving array of first-class devices -- a group I like to call the Android elite -- and while it may not jibe with those who strive to write sexy-sounding headlines, there's rarely any single device that's categorically "the best" for everyone.
(Don't worry: Here in a few weeks, we'll be bombarded with stories telling us the Galaxy S4 is the only phone anyone should ever consider, too. These cycles get pretty predictable after a while.)
So let's look at this from a more nuanced and realistic perspective, shall we? The One is without question one of the best Android phones available today. It's beautifully constructed, with a striking aluminum build that looks
and feels like a million bucks. It has a stellar display along with awesome speakers, top-notch performance and a camera that -- while certainly not perfect -- takes great-looking everyday shots and excels at low-light performance.
The One also, however, has a dated and problematic button configuration -- something that may sound trivial but plays a significant role in the user experience. Similarly, HTC falls into the common trap of trying to change the Android interface simply for the sake of change; the result, as generally happens in that scenario, is a UI that's messy and convoluted at times -- and a serious step down from Google's stock software.
In the big picture, of course, it's a balancing act -- and what really matters is what's important to you in a phone. So how do you know if the One is the one? I'd make the following suggestions:
Think about the build style -- the look and feel of a phone -- that you prefer. The One's aluminum build has a very high-end and premium vibe to it; frankly, it makes a plasticky device like Samsung's Galaxy S4 (which I'll be reviewing soon) look a little cheap in comparison.

The One's metal casing is also considerably less fragile than glass-centric phones like the LG-made Nexus 4, which -- while high-end and premium in design -- are more prone to scratches and cracks due to the nature of their material.

[UPDATE: Galaxy S4 vs. HTC One and Nexus 4: Which should you get?]
Give some thought to the battery. The One's battery is not removable -- a factor that won't matter to most folks but is important to a subset of users.

If you're concerned about the possibility of running out of power, other devices do have advantages: A phone like the Motorola Droid Razr Maxx, for instance, has a massive battery that's damn near impossible to kill in a day. And a phone like the Galaxy S4, by virtue of its aforementioned plastic construction, allows you to easily peel off a back panel to swap out the battery for a spare.

Of course, you could also just get a portable power pack to keep around as a backup. Such packs are available from a variety of manufacturers -- Motorola, Mophie, and others -- and are a pretty simple Plan B that'll work with any device.
Mull over the notion of storage. The HTC One comes with either 32GB or 64GB of internal space and no SD card slot. For most users, that's going to be more than enough -- but some people do like having more space. Other devices, like the GS4 and Razr Maxx, offer SD card slots for external expansion.
Consider how much software means to you and what sort of experience you prefer. I maintain that Google's Nexus 4 provides the best overall user experience of any device on the market today, thanks to its pure Google Android software and guaranteed rapid upgrades to future Android versions (like the major release expected to be announced at Google's I/O developers' conference next month).

If having the latest and greatest software is important to you -- and, like most users, you aren't the type of person who's going to root a phone and install a custom-made ROM on your own -- Google's Nexus phones may be the path for you. Other devices have their own advantages, but fast and frequent upgrades aren't typically among them.
Lots to think about -- I know. But as I've said many a-time, having too many attractive choices is a fantastic kind of problem to face.
Ultimately, the best way to decide if a device is right for you is to get a feel for what it's actually like to use -- and that's where I can help. Living with a phone for several days tells you a lot.
So step into my shoes and see how the One fares in the real world. Our journey begins at the link below:
HTC One deep-dive review: A smartphone that flirts with perfection
Shop Tech Products at Amazon