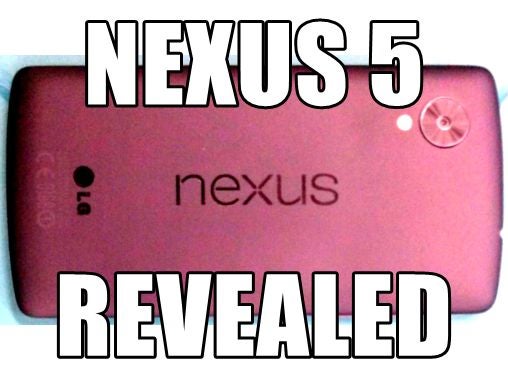 With the release date a week or three away, here's the Nexus 5...
LG (KRX:066570) and Google (NASDAQ:GOOG) are now expected to release the Nexus 5 next week, or at the end of the month. And now we know what's in it -- at least, according to a leaked service manual. It confirms most of the rumors we've heard recently, as well as going into far too much detail about disassembly and troubleshooting.
In IT Blogwatch, bloggers pore over the specs.
Liam Spradlin thanks his "anonymous tipster":
A document, purported to be an internal Service Manual for the LG-D821...gives us an in-depth look at the next Nexus phone. ... We now have a new look at the device, with the document including line drawings and disassembly photos. [It] gives us a peek at most of the device's specs...here's a quick rundown of what it reveals.

4.95" 1080p display (IPS) ...
32GB internal storage ...
2GB RAM ...
Snapdragon 800 at 2.3GHz
8MP OIS rear camera, 1.3MP front ...
2300mAh battery ...
Bluetooth 4.0 ...
LTE

  MORE  
Fuad Abazovic says there are no big surprises here:
[It] sort of confirms almost all the rumours that have been floating around for months.

...

LTE radio is on board, along with an OIS 8-megapixel camera, NFC and wireless charging. [The] 4.95-inch 1080p panel...really deserves the "5" moniker [but] at 133.9x68.7x9.1mm, the new Nexus is roughly the size of last year's Nexus 4.  MORE
So How does it compare to LG's G2? Jeff Blagdon knows:
Keeping with tradition, the new phone is more or less spec-for-spec identical with LG's G2, save for the...camera on the Nexus 5, a slightly smaller screen, and a smaller battery. ... So the idea of a redesigned G2 running stock Android is incredibly intriguing.

...

With the Nexus 4 getting a late-October release last year, we wouldn't be surprised to see Google stick to the same timeframe this time around.  MORE
But is the leak real? Chris Velazco crunches the evidence:
As much as I love my mental image of a lone prankster toiling into the wee hours of the morning on a meticulously crafted forgery, the sheer complexity and granularity of the information contained in this document makes that scenario an unlikely one.

...

It's hard to argue with the timing, too. The first anniversary of the Nexus 4's unveiling is fast approaching. ... I'd wager all this cloak-and-dagger business should be dispensed with very shortly.  MORE
Fed up with reading about leaks? Steven Norris has news for you:
Learn to love leaked information, because the leaked info loves you.

...

There's a high-chance that it will be the first KitKat (Android 4.4) device. ... There's a rumoured Google launch 14 October. ... The phone looks slim and if it's anything like the Nexus 4, it's going to be not only one of the cleanest Android phones out there, but also the most moddable as well.  MORE
Computerworld Blogs Newsletter
Subscribe now to the Blogs Newsletter for a daily summary of the most recent and relevant blog posts at Computerworld.