App developers on Apple [AAPL] and Android platforms do good business offering all manner of in-app purchases, but now regulators are stepping in to ensure these apps don't put your children under pressure to spend money on these digital knick-knacks.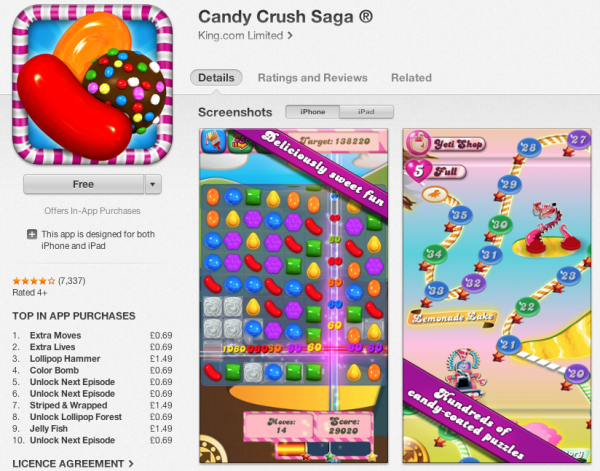 [ABOVE: Here's a child-focused game that's equipped with in-app purchases -- and is the top-grossing title on Apple's App Store in the UK.]
Think of the children
Apple watchers know a similar problem has already led Cupertino to make a settlement in response to a class action lawsuit which claimed the company had made it too easy for kids to spend cash on such things. (Here's a handy guide to disabling in-app purchases on an iPhone.)
This morning the UK Office of Fair Trading (OFT) launched its own investigation into child-focused in-app purchases.
From the press release:

"The OFT has launched an investigation into whether children are being unfairly pressured or encouraged to pay for additional content in 'free' web and app-based games, including upgraded membership or virtual currency such as coins, gems or fruit. Typically, players can access only portions of these games for free, with new levels or features, such as faster game play, costing money."
Apple developers will inevitably be impacted by any steps regulators may take to control the manner in which in-app purchases are offered. Android developers will be more severely impacted as those developers who do make money do so mainly through in-app purchases, because a la carte app purchases aren't significant on the platform.
On 9 April 2013, 80 of the 100 top-grossing Android apps, for example, in the UK were free to install and raised revenue through in-app purchases.
There's good reasons for regulators to look into this. There's been multiple reports of huge bill shocks for parents who left little Sophie (name is random and any resemblance to any child who has done this who may or may not be called Sophie is accidental) alone with an iPhone and came back to find a big bill for in-game gems, or other items.
A recent example: Mum's warning after girl spends £900 on iPad 'gems'
'Misleading, commercially aggressive or otherwise unfair'
The OFT investigation is exploring whether these games are misleading, commercially aggressive or otherwise unfair. In particular it is looking into whether these games include 'direct exhortations' to children -- a strong encouragement to make a purchase, or to do something that will necessitate making a purchase, or to persuade their parents or other adults to make a purchase for them.
UK regulators will also consider whether the full cost of some of these games is made clear when they are downloaded or accessed, "potentially leading to children and parents to make decisions they may not have made if prices were more transparently advertised at the start of the purchasing process."
This is merely the tip of the iceberg as regulators across the US and Europe begin looking more closely at the infrastructure of the evolving mobile economy.
User privacy will be part of this discussion, and Google's recent attempt to reach a deal with EU regulators over aspects of its handling of this seem tissue thin to me.
Your data, your privacy, your rights
In talks with sources within the mobile phone industry this week I've heard a constant complaint that big players, principally Google, have exploited their size and first mover advantage in order to access and exploit user data -- yet when smaller firms attempt to exploit similar data they are advised they cannot under data protection regulations.
That's causing a rift across several industries as stakeholders recognize the unfair business advantage Google enjoys as a result of its untrammelled access to such data.
Consumer advocates meanwhile are becoming ever more anxious, raising concerns about all manner of user privacy matters in the digital/mobile age.
Recent investigations in the US and Europe and this latest attempt by the OFT suggest regulators are finally beginning to recognize the importance of clear and defined user and user privacy rights in the digital age.
Once again, while Apple will be impacted,  the biggest impact will likely be felt by Google and its Android OS -- after all, any steps to limit access and use of user data will likely translate into a thinning of revenue within that company's dystopian targeted mobile ads model.
There's many who argue that because a service is offered for free this justifies a loss of some privacy in exchange for using it. Perhaps this is true for them. However, regulators appear to be inching towards insistence on open and transparent user-managed privacy controls.
Changing regulatory environment
Speaking with people involved in developing technologies to harness the Big Data generated by customers on carrier networks with a view to introducing customer-focused personalized mobile advertising solutions, I have learned that most solutions now ship with regulatory compliance built-in. Individual data is -- to an extent -- anonymized before it is processed.
As consumers develop better understanding of what's at stake, and as their privacy rights become better defined, there are signs, according to industry insiders, that they become happy to sign-up for more personalized and less anonymized services in exchange for their private information.
"That's because they understand that the kind of services on offer make sense," one contact told me this morning.
The OFT investigation into in-app purchasing is just part of the kinds of regulatory investigation I'd anticipate will be taking place in all regions.
This means the wild frontier of online privacy that drove wild profits for some of the bigger names is transforming. The mobile data gold rush is coming to an end. The investigation of in-app purchases signals this.
Got a story? Drop me a line via Twitter or in comments below and let me know. I'd like it if you chose to follow me on Twitter so I can let you know when these items are published here first on Computerworld.