A leaked report claims Microsoft [MSFT] intends bringing Office to Apple [AAPL] iPads -- but not until 2014. Meanwhile IDC informs us that PC sales have slumped to a 20-year low. Microsoft's refusal to follow trend means it has signed its own death warrant, and here's why: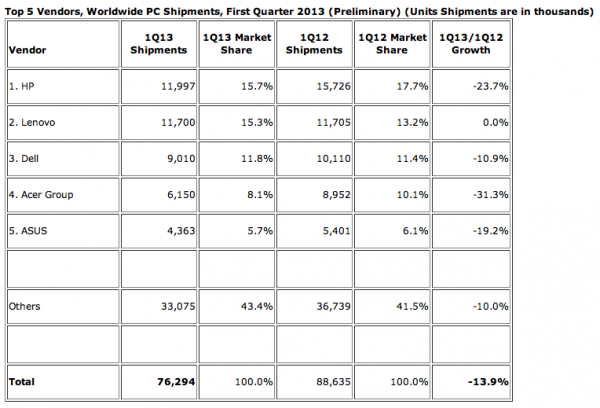 [ABOVE: From IDC. These figures really aren't great, are they?]
The facts first
A very short reprise of the facts as they've been revealed so far:
Struggling PC makers and Windows 8 push PC market into free fall

"Worldwide PC shipments fell by 13.9% year-over-year during Q1, with higher PC prices and mobile devices also contributing."

All PC makers (including Apple) have been impacted, these figures reveal, though the company continues to hold 10 percent of PC sales. In comparison, HP saw 23.7 percent negative growth worldwide.
Office for iPad in 2014? Big mistake

"If a new timetable report is accurate, Microsoft's making the wrong move, say analysts."

"A purported Microsoft roadmap for future releases of its Office suite showed a fall 2014 launch date for Office on Apple's iOS and Google's Android mobile operating systems."
Decoding the data
Neither IDC not Gartner (who also published PC market figures yesterday) account for tablet sales as PCs. A third analyst firm, Canalys, does do this, and believes tablet sales will eclipse notebook sales by 2014.
Many critics continue to argue that iPads are not PCs, which is true, but as these devices become more powerful and developers introduce ever more advanced apps, it's clear tablets will pretty soon be equally as capable as any low power PC, at least for the majority of general use.
More sophisticated computational operations will continue to require a PC, but this may end up being nothing more than a remote machine accessed by a mobile device over private or public clouds.
The IDC and Gartner figures also confirm that Windows 8 has failed to ignite the PC market, and, indeed, has served to slow that market.
Bob O'Donnell, IDC Program Vice President, Clients and Displays:

"While some consumers appreciate the new form factors and touch capabilities of Windows 8, the radical changes to the UI, removal of the familiar Start button, and the costs associated with touch have made PCs a less attractive alternative to dedicated tablets and other competitive devices. Microsoft will have to make some very tough decisions moving forward if it wants to help reinvigorate the PC market."
Disruption in the enterprise
I've written endlessly on this, so I won't repeat myself too much. In brief, the reality across enterprise users is a move to adopt BYOD policy, to establish socially-based collaboration systems accessible via mobile devices, to embrace home and remote working, and a huge transformation in management culture (which is just beginning) which turns away from silo-based management in favor of group-focused working practises.
Autonomy is seen as a route to efficiency in the new management doublespeak, and part of this autonomy is a move to allow employees to choose their own devices. Of course, reflecting consumer trends, Apple is shooting up the enterprise sales charts. Android is being looked at, but most CIOs remain unconvinced by its security model, mainly because, well, because they think what I think on Android security: it sucks.
Windows tablets have failed to interest the rank and file of enterprise workers. This is because Microsoft has made a fundamental error in its approach to business -- the company continues to insist that enterprise culture reflects the antique "Greed is good" autocratic top down management culture, and has failed to recognize the significance of how things are changing.
The significance is that it's no longer enough to convince the CEO or CIO to adopt Microsoft products, you must also convince an increasingly autonomous workforce to adopt these things, too.
[ABOVE: It's not as if it isn't already happening. Wouldn't it look better to Microsoft if the solutions were Microsoft? (Office 365 doesn't cut it)]
Customer experience
One obvious way in which Microsoft could keep its key enterprise customers happy might be to deliver good customer experiences to the platforms they are on. Given the importance of its business productivity suite, Office, and its historical importance in underpinning Windows sales, it makes sense to deliver Office to as many platforms as possible, given the new diversity in enterprise systems.
Except this isn't what is happening.
Instead, Microsoft, with its anachronistic worldview, believes that by making Office software unavailable to users of other mobile platforms, it can leverage this lack in order to create future demand.
This isn't going to work.
The advantages of Office are being eroded. Increasingly people do business in different ways. Alternative applications and services that can create documents, spread sheets or whatever in Office-compatible formats now exist. These don't have the hegemonic market share of Office, and probably never will, but given Office is the one thing Microsoft has that everyone might want, it's Microsoft's perfect calling card with which to convince people to have a little faith in its other products.
In other words, as the company's core markets -- and indeed the wider consumer markets -- adopt different platforms, Microsoft doesn't have a challenge, but a huge opportunity.
Were the company to introduce good versions of Office for the plethora of other devices, it would create new revenue, create good feeling, and, if the software's liked, stimulate interest in its other products.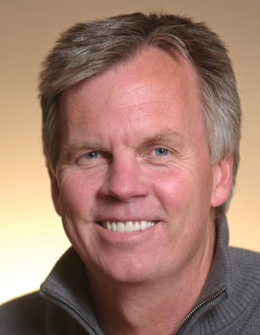 However, by making its customers wait until some indeterminate point next year, Microsoft looks like it isn't watching what's happening, isn't interested in serving the needs of its customers, and looks out of touch. These steps encourage disinterest in its products. These actions drive its customers -- including its precious enterprise customers -- to look elsewhere.
By adopting this path, Microsoft is signing its own death warrant.
Perhaps it should give Ron Johnson (pictured, left) the top job?
Got a story? Drop me a line via Twitter or in comments below and let me know. I'd like it if you chose to follow me on Twitter so I can let you know when these items are published here first on Computerworld