Almost half of all Android devices are now running Jelly Bean, according to the Android platform distribution numbers for October. Google's Android developer dashboard shows 48.6 percent for Jelly Bean and only 20.6 percent for Ice Cream Sandwich. It seems as if Gingerbread just won't die as it is still running on 28.5 percent of Android devices, which is more than Froyo, Honeycomb and Ice Cream Sandwich combined. The popularity of Android platforms is measured over seven days as devices access the Google Play Store; it is supposed to help app developers by showing the most active versions and screen sizes in the Android ecosystem.
While Jelly Bean is currently king, Android KitKit is coming soon. Google threw most of us for a loop by announcing the next Android version release to be 4.4 KitKat, instead of the rumored 5.0 Key Lime Pie.
Now screenshots from a Nexus 4 supposedly running the KitKat OS have been leaked online by Gadget Helpline. There's no guarantee these are legit, but it's exciting to get a sneak peak of the new Android 4.4 KitKat features.
Although we know KitKat is rumored to be released alongside Nexus 5, the first Easter Egg screenshot still shows the software version to be Key Lime Pie. Gadget Helpline explained, "We believe the OS we played around with to be either an unfinished version or a cover-up for KitKat." The "About" shows Key Lime Pie version KRS65B with the code-name hammerhead under "Build."

If these are legit, then Google added some handy new features to KitKat like printing so Android users won't have to use a third party app. Hooray!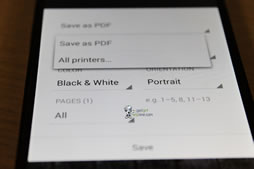 "Print is now a menu option when viewing an image and allows you to save your image as a PDF locally or view network printers and print out a hard copy." There are options for selecting orientation, paper size, color and page numbers. Print or "save as PDF" is also an option in QuickOffice. In addition, Gadget Helpline found "Payments" as well as "Wireless display" menus listed in Settings. 
New photo editing options have been improved upon with some new additions, including Tilt-Shift and Center Focus options plus Negative and Posterize effects. There are also new options to Export your edited image in a size of your choice and with an adjustable quality slider. 
When will you be able to get your hands on KitKit? Although numerous places suggest the Nexus 5 with 4.4 KitKat will be released at the end of October, Gotta Be Mobile suggested that is a rumor that needs to die. In the meantime, check out the plethora of screen grabs on Gadget Helpline's hand-on with Android 4.4.