The moment has arrived, following many months of speculation Apple [AAPL] has finally evicted Samsung from it's A-series iOS chip development project, according to the Korea Times.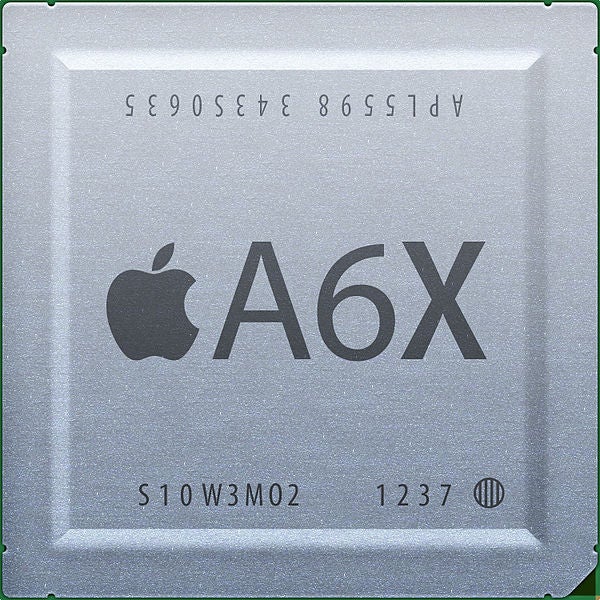 [ABOVE: The A6X chip currently used in iPads.]
Samsung loses, TSMC wins
The report confirms Apple has excluded Samsung from the project to develop A7 processors, "due to be released in the first half of next year." The report also confirms the company will instead be working with TSMC.
These future processors for Apple's iPhones, iPads and other mobile devices will be manufactured using 20-nanometer process technology, the report explains, informing us that Apple had been paying Samsung "billions" for the processors it has been manufacturing -- helping the Korean firm to survive the industry slump.
"Apple is cutting the use of Samsung displays for its products. Now the deterioration of ties has expanded to chips," the report's source (allegedly an executive at one of Samsung's local Korean partners) explained.
The iPhone-maker's decision to abandon its relationship with Samsung is of little surprise. Apple has gone to the courts to make the case that its former partner has at the least imitated some of its ideas in its Galaxy devices, and while decisions made in different jurisdictions differ, there's no doubt the company is sincere in its belief.
Death match
Samsung has emerged to be Apple's biggest competitor in the sector, with its Android-powered devices selling widely, partly as a result of the Korean firm's decision to subsidize sales of these heavily marketed devices.
Apple's decision to abandon Samsung as chip supplier seems likely to have a deep impact on its competitor, which will be forced to shut down some of its chip manufacturing lines.
It seems logical that these closures will include the famed facility in Texas in which A-series chips are allegedly manufactured. This is likely why TSMC has been actively seeking a US base in which to manufacture undisclosed products. Apple clearly wants to ensure that its rejection of Samsung doesn't translate into a net reduction in US jobs, particularly in the current economic climate.
Apple's processor plans remain cloudy, but recent reports suggest it intends focusing on graphics capability, low power requirements -- as you'd expect from chips produced using a 20nm process, processing speed and tight integration between hardware and software.
The Korea Times report also confirms a previous rumor, which strongly suggest this year's iPhone upgrades will simply run an improved version of the current A6X chip -- this suggests my expectation of faster graphics in a future chip iteration may not fully emerge until next year.
Yahoo not Google
In related news, Apple is in talks with Yahoo with a view to deepening that relationship. This is likely another move to put distance between Apple and its Android enemy, Google. Apple and Yahoo are talking about how more Yahoo services can be used in iPhones and iPads.
These may include direct access to Yahoo news -- a step which may be welcomed by many online publishers who currently find themselves at the mercy of the regularly-changed algorithms within Google News.
It is well-known that Apple executives felt completely betrayed by Google's move to introduce Android into the market, as it appeared at a time in which that company's CEO sat on Apple's board, and likely had at least some knowledge of the company's future plans.
Apple has already moved to abandon its reliance on Google for some Internet services, most recently introducing the heavily criticized but rapidly improving Maps app.
Microsoft meanwhile has complained to European regulators to argue that Google has unfairly used Android to kill mobile search competition.
Got a story? Drop me a line via Twitter or in comments below and let me know. I'd like it if you chose to follow me on Twitter so I can let you know when these items are published here first on Computerworld