The Apple [AAPL] rumor mill is in overdrive as it seems all the eggs in the company's barn are beginning to hatch. This week has seen news on new iPhones, iPads, the Apple television, "cheap" iPhone, iOS 7 and, now on the playlist -- Apple's iRadio service seems close to launch.
[ABOVE: Apple has come a long, long way since its October 2001 iPod launch.]
On iRadio
What is iRadio? In brief it's a Pandora/Spotify-like ad-supported music streaming service that should enable iTunes users to hit a button and listen to accurately created playlists of music by artist, period, or genre. We don't yet know how it will work, or if indeed it will be called 'iRadio'.
Apple has been working on this service for years. Late last year reports claimed the company had come close to inking a deal with US majors to introduce the service, but negotiations failed to succeed, because the company failed to allow sufficient time for discussion.
In the words of Bob Dylan, "things have changed." A CNET report claims Apple is close to reaching deals for the service with Warner and Universal, though negotiations with Sony, music publishers and indie labels haven't yet succeeded.
The report claims the company will be paying labels around half what they get from Pandora for music streaming rights. Personally I doubt it will be able to maintain this share, as music publishers have strong rights when it comes to music streaming services and I consider them unlikely to agree a deal, unless there's other elements designed to add a few zeroes to the balance sheet.
In an attempt to sweeten the deal, Apple will also be offering a range of alternate income streams, including a slice of iAds revenue and easy a la carte track purchases. It will also offer features unavailable via other services, the report adds.
"That includes a quick way for consumers to buy a song they hear, potentially boosting download sales from iTunes, as well as a revenue share of new audio ads Apple is planning to add to the free service, according to sources," the report explains.
[ABOVE: This Selecter track seems appropriate today.]
All your music -- on your wrist
What's interesting is that the service seems set to work on all Apple's mobile devices. Might this mean that in future you'll be able to stream all the music your heart desires while wearing an iWatch or watching your Apple television?
Apple seems to be focusing on the US market in this attempt, but it appears unlikely it will be US only for long. The report tells us:
"Apple is hoping to quickly unveil the service in up to a dozen territories, including the U.K, France, Germany, Australia, and Japan."
It seems likely the service will enable Apple to build up those BOSS, data analysis and billing systems that shore up its iTunes service. It will need these to be incredibly accurate in order to pay per-track streaming royalties, and as these improve its capacity to accept micro-payments (small payments) via the service can only improve.
This is important as the company moves to offer its own mobile payments services. Gene Munster of Piper Jaffray believes Apple will offer such a service within the next few years, likely tied to future biometric security enhancements within the iPhone.
Apple possesses over half a billion active iTunes accounts already linked to credit/payment cards. Any move to launch a music streaming service seems likely to boost these numbers, giving the firm a huge advantage when it comes to launching its own payment services.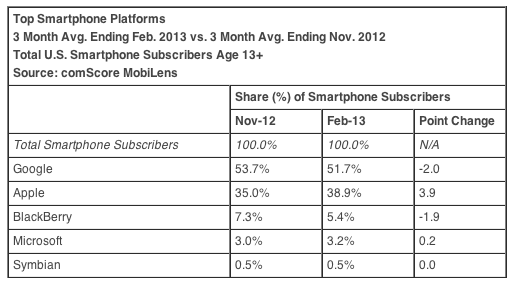 [ABOVE: Apple gains, Android loses in three months including February 2013.]
Apple is surely doomed now it has stopped innovating, except it hasn't and isn't...
It is interesting to reflect that as the full scale of Apple's efforts to deliver innovation within the next 18-months become plainer, the company's iOS market share is also climbing in comparison with Android.
The latest ComScore US smartphone study shows Apple returning significant gains in both smartphone hardware and operating system market share.
The iPhone was the most popular US smartphone in the three months including February, with a 38.9 percent market share, up 3.9 percentage points. iOS achieved 38.9 percent of the market, also up 3.9 points. Android market share declined slightly in the period, though it still accounts for over 50 percent of the smartphone market.
It will be interesting to see if the provision of more affordable iPhones, the iWatch and other new extensions to the iOS ecosystem will offer consumers a sufficiently integrated experience to make Apple's devices more attractive within this deeply competitive market. The company only needs to grab a few percentile points of market share in order to drive Android share to under 50 percent in the US, after all.
Not that market share matters so much -- consumers buy into experiences, after all. In the long term the platforms offering the best integrated, most satisfying customer experiences will be the ones that prevail. It's not about which smartphone you get first time around, after all, it's about whether your experience of that device is sufficiently pleasing that you choose to stick with the device/manufacturer, or look elsewhere.
Got a story? Drop me a line via Twitter or in comments below and let me know. I'd like it if you chose to follow me on Twitter so I can let you know when these items are published here first on Computerworld.