Once upon a time Firefox and Chrome could have become king of the desktop browsers. No longer. Internet Explorer remains at the top of the heap, and it's gaining browser share each month. IE has clearly won the desktop browser war. But does it really matter?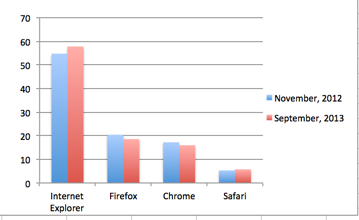 The latest figures from NetMarketShare tell the tale. Internet Explorer has a 57.79% desktop market share to Firefox's 18.58% and Chrome's 15.98% and Safari at 5.77%. And the numbers are only getting better for Internet Explorer. In November of 2012, Internet Explorer was at 54.76%, with Firefox at 20.44% and Chrome at 17.24%. That means since then, Internet Explorer has gained more than 3%, while Firefox and Chrome combined lost nearly 3%. So month by month, Internet Explorer is picking up those who seem to be abandoning the competition.
The problem for Microsoft is that traditional PC sales have been shrinking, while sales of smartphone and tablets have continued to grow. And when it co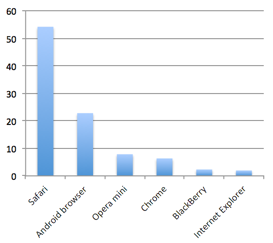 mes to mobile browsing, Internet Explorer isn't even yet in the running.
The latest NetMarketShare numbers for mobile browsers show Safari with 54.16%, the Android browser with 22.79%, Opera mini at 7.86%, Chrome at 6.33% and BlackBerry at 2.31%. Internet Explorer is at a lowly 1.95%.
Given Windows 8 and Windows Phone's small market share, these numbers should be no surprise. And given how hard a time Microsoft is having breaking into mobile, the numbers won't change any time soon. So while it's true that Internet Explorer has clearly won the desktop browser war, that's yesterday's battle. Tomorrow's is over mobile browsing, and it's hard to imagine Internet Explorer ever winning that one.