Oh, ye Android faithful: Have ye heard? Google may have a second-generation Nexus 7 on the way this summer -- and for the first time, we're hearing some specifics about what the tablet might include.
According to unnamed sources who spoke with Reuters, the next Nexus 7 will sport a higher resolution screen, a new Qualcomm chip of some sort, and a "thinner bezel design." A small list, for sure, but one that could be just what the doctor -- err, tablet user -- ordered.
Why? Simple: Nearly a year after its debut, the original Nexus 7 remains a fantastic device -- despite having a Nexus 10 and a rotating array of phones in my reach, the N7 is almost always the gadget I grab for around-the-house use -- and with its $200 price point, it really doesn't need much to push it ahead into 2013 territory.
In fact, I'd argue that the Nexus 7 needs just two key improvements to make for a compelling second-generation model:
• Faster speed. While it's still great to use, the original Nexus 7 is starting to show its age when it comes to processing power. An updated chip and extra gig of RAM would go a long way in making the tablet feel snappier and up to par with the current crop of flagship devices.
• A better screen. The first-gen Nexus 7's display is fine for its size, but with 1080p quickly becoming the norm, a HD screen sure would be nice to have -- even if it were offered as a higher-priced option.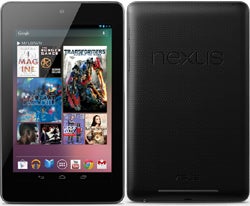 This week's rumor addresses both of those points. As for the thinner bezel it also mentions? I'm not sure it's necessary -- the look and feel of the current Nexus 7 is a big part of what makes it so appealing -- but let's face it: People do like buying products that look outwardly "new" and different, so a moderately updated design could be beneficial in that regard. In any case, it's hard to judge that kind of thing without actually seeing it and touching it, so there's no point in giving it too much thought now.
Beyond those areas, though, I'd argue there's not much Google needs to do with its second-gen Nexus 7. By its nature, any such tablet would already be running the latest version of Android (as would the first-gen N7, of course). And most other potential areas for evolution strike me as being superfluous -- like the addition of a rear-facing camera, for instance (seriously -- how often do you take photos with your tablet instead of your phone?). For what the Nexus 7 is designed to do, a speed boost and screen bump would get the tablet right where it needs to be.
One way or another, we'll find out soon enough. Google's I/O developers' conference is set to take place in just over a month. That event is where the original Nexus 7 was announced last year. And Reuters' sources say an updated Nexus 7 could ship sometime around July, which would make sense with that timeline.
So take a deep breath: We've got that possible launch, a likely new version of Android, and whatever other surprises El Goog might have in store right around the corner -- not to mention the arrivals of the HTC One and Galaxy S4 in the weeks between now and then.
The spring season's just getting started -- and here in the garden of Android, there's plenty of fresh growth on the horizon.