Billions across the planet are not waiting in line for an Apple [AAPL]  iPhone -- but many thousands are already in possession of one of the shiny new smartphones. Here's a global round up of what's going down.
[ABOVE: Don't believe the FUD headlines claiming iPhone sales are disappointing in China. Here's a few hundred Chinese in Apple's Shanghai shop. You can sense their disappointment by watching them queue to buy an iPhone.]
On the lines
Queues in Japan; Queues in Australia; Queues across Europe; Queues in Ireland and the UK while there's "lines" across America. iPhone mania breaks across the planet this morning as we hear these things are in short supply (again).
At the Ginza, Tokyo Apple Store in Japan
iDay opening in Sydney, Australia
iPhone hits Paris, France
Berlin calling
At the Covent Garden, London store (and it's not just London).
In the line in NYC last night
Perhaps the lines are a little less long than they used to be. Perhaps iPhone users have learned that if they don't get their device on day one, then life will still be OK. Perhaps price in the current market is a big issue -- but who other than Apple is able to raise an army for a product launch?
Samsung can't. That's why it ridicules the achievement. What can I say?
What's the secret?
There's been a couple of decent interviews across the last 24-hours. Apple CEO Tim Cook, designer Jony Ive and software chief, Craig Federighi are touring those few media outlets approved by the company to talk about iOS 7 and the new iPhones.
There's lots of details about the business, the industry and more, but there's a few statements which reflect why Apple's products raise this kind of loyalty, an almost religious mania some might call "love":
"New? New is easy. Right is hard," Federighi told Bloomberg.
"I do think that we sense when somebody has cared. And one thing that is incontrovertible is how much we've cared," Ive said, also speaking with Bloomberg.
"It's very easy to make something that is new, but it won't be new the day after tomorrow. So we are trying to make things that are better," Ive to USA Today.
"Look at the camera space, companies are chasing megapixels but the pictures often look horrible because of their tiny sensors. My family cares about taking a good picture, not a megapixel count. We carry that through to all the decisions we make about our phone. What experience is it going to deliver? Not what number will it allow us to put on a spec sheet," Federighi to USA Today.
"There's always a large junk part of the market. We're not in the junk business." Cook to Businessweek.
Clearly, if you ask Apple why people have been waiting in line outside of its stores this morning, all three men will say its customers are driven by the care the firm puts into creating high-quality products that deliver excellence in user experience. Anyone can put more megapixels into the camera, but can they make sure the images are excellent, the software useful and the device easy to use?
Security concerns
The critics aren't attempting to compare and contrast user experiences. This time around they're trying to subvert Apple's reputation for security. We all know Android security sucks, despite the constant bleating of those loud-mouthed evangelists who seem to exist in the comments field of every Apple-related story. Given Google's unable to effectively update the security of its installed user base, Apple's critics are attempting to unravel that company's strong security reputation.
They've hit some gold.
It seems there's some form of lock screen vulnerability through use of which a miscreant can break into your image library and send it via email and social media.
Apple's response to this news has been to say it takes security "very seriously", a statement that implies a future software patch will address the flaw.
A software patch is all Apple needs to deliver -- iPhone users update their devices, after just 16-hours 29 percent of Apple's 700 million mobile customers had updated their iPhones to iOS 7.
Security is also the target of some shadowy security researchers who are offering up $16k to the first hacker to subvert the iPhone 5S' Touch ID system.
Meanwhile here's a picture that shows the Internet itself buckled under the strain of all those millions of iPhone users who downloaded iOS 7 after its release. Apple almost broke the Internet.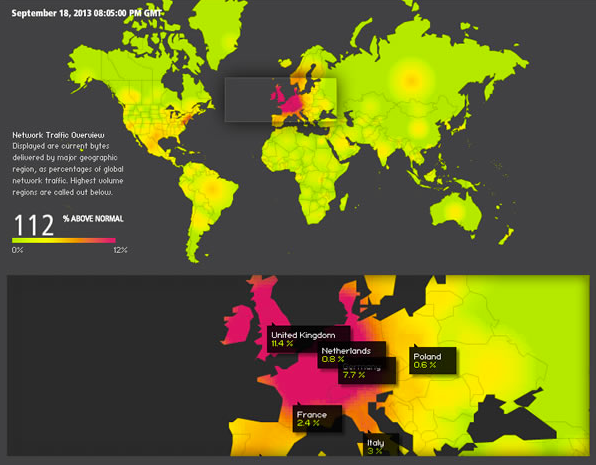 [ABOVE: iOS 7 spreads across the planet. c/o GlobalNerdy.]
Battery life
Perhaps a bigger concern for new iOS 7 users is the system's impact on the battery life of older devices. There's a few tweaks you can make in the meantime, but I hear Apple will mitigate this issue with a future software update. iOS 7 is optimized for the latest models on launch and is customarily improved in a later version release.
Selling out
There's another meme this morning -- apparently many iPhone models (particularly the gold model so many ridiculed) are selling out. Some claim constrained supplies, particularly via carriers. This isn't unusual. We know there's never enough new iPhones to go round. It's a matter of historical record.
Could Apple manufacture more?
Possibly, but given the sheer number of images of these devices circulated across the Internet in the last few weeks while pre-manufacture was in full swing, there's clearly only a limited length of time in which to make the devices before the full product details are revealed. It has to launch at some point. It launched today.
Apple's new devices will certainly impact global smartphone sales in the current quarter as pent up demand puts fresh momentum into the industry, which has been flat for months while consumers wait to get the new device.
Finally, here's a three links you might want to take a glance at if you're upgrading to iOS 7, or have just picked up a new iPhone.
Google+? If you're one of those who likes to use social media and also happen to be a Google+ user, why not join AppleHolic's Kool Aid Corner community and join the conversation as we pursue the spirit of the New Model Apple?
Got a story? Drop me a line via Twitter or in comments below and let me know. I'd like it if you chose to follow me on Twitter so I can let you know when these items are published here first on Computerworld.