As the company approaches its October Mac upgrades, Apple [AAPL] leads the computer world in keeping customers happy, even while competitors seem to miss the importance of approachable user interfaces and design-led product creation.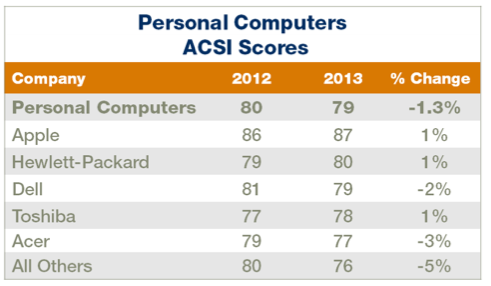 [ABOVE: So who is the superior PC manufacturer?]
Happy arrogance
It is quite strange. Apple is often described as "arrogant" by critics even while competing platforms fail to deliver products their customers actually enjoy. Where Apple provides solutions its customers love, competitors seem unable to consistently please customers. Surely that failure reflects greater arrogance than Apple's success?
The latest American Customer Satisfaction Index report confirms Apple's Macs have kept more people happy than any other PC platform across an entire decade. That's ten years in which competitors could have put more effort into delivering products people actually like.
ACSI confirms Apple delivered the most satisfying computing experience in 2013, achieving a score of 87 points in contrast to an industry average 79. There's a seven-point gap between Apple and closest competitor, HP.
"Apple continues to have a wide lead in ACSI. Up 1% to 87, it outpaces the entire field of Windows-based manufacturers by 8-12%. Hewlett-Packard runs a distant second with an ACSI benchmark of 80 (+1%), followed by Dell at 79 (-2%). Toshiba (+1%) and Acer (-3%) are below the industry average at 78 and 77, respectively. The aggregate of smaller manufacturers (such as Samsung, Lenovo, and Asus) lags well behind after dropping 5% to 76.

"Microsoft's revamped Windows 8 operating system does not seem to have provided a bounce in sales or in customer satisfaction for these manufacturers," says ACSI Director David VanAmburg. "Moreover, the vast majority of devices offered by HP, Dell, and other smaller PC makers are desktops or laptops—a category that consumers find less gratifying than tablets." (Press Release)
Satisfaction is everything
Apple's satisfaction ratings across its iPhones and iPads also lead the industry, and while others catch-up from time-to-time, Apple's pattern of customer satisfaction leadership has been consistent across time.
Three reasons why:
Simplicity in user interfaces
Superior design and build quality
Success with new technologies
The PC market is shrinking. This is impacting Apple too, of course, but company leaders were prescient in managing the transition from being a pure PC firm to a mobile solutions provider. Those iPhones and iPads have defined their industries, creating wide consumer opinion that where others imitate, Apple strives to lead.
The root of the collapse of the PC market may be found in the over-complex nature of Windows and its apps, the complexity of security, and the race to the mundane driven by the notion of low cost choice. Apple exploited those Wintel weaknesses to position itself as an alternative platform. The iPod drove further interest in the Cupertino firm's solutions. Its profitability is a direct result of its focus on delivering a superior user experience.
In future, Android's repetition of similar Wintel market mistakes will see history repeat -- Apple's customers will be happy customers. These day's computer buyers don't want a PC, they'll choose a Mac if they have the choice. Sure, a few enterprise shops may want to save a few bucks and keep their existing tech support crew in paid employment by purchasing Wintel machines, but those enterprises that allow BYOD within their organizations are seeing waves of workers wafting by with iPhones and iPads. I don't care what the Android shills say about that: Google's platform is not enterprise-ready and isn't intended to be.
User satisfaction ratings are critical. In a global mass market it's not market share that matters, but how happy existing consumers are with their chosen platform: satisfied customers are the most effective form of advertising you can get. Is it really arrogant to keep customer's satisfied? Perhaps the best answer to that question is seen in Dell's recent move to return the money to its shareholders.
Google+? If you're one of those who likes to use social media and also happen to be a Google+ user, why not join AppleHolic's Kool Aid Corner community and join the conversation as we pursue the spirit of the New Model Apple?
Got a story? Drop me a line via Twitter or in comments below and let me know. I'd like it if you chose to follow me on Twitter so I can let you know when these items are published here first on Computerworld.