Last night I went, with several hundred other journalists, to the introduction of Samsung's new Galaxy S4 phone at Radio City Music Hall in NYC .
Why Radio City Music Hall? Because the norm for the introduction of new smartphones and tablets has become a presentation with the kind of razzle dazzle that used to accompany movie premieres in the 1930s. Apple has been a master of the form; Samsung is obviously trying to up the ante.
We (both those who were on site and those watching on streaming video) were treated to what has become a typical smartphone/tablet presentation -- taken to the nth degree. An introduction by the president, CEO, or other high-level executive and then a breathless detailing of all the really great new features of the new device by either a marketing person or a media personality, accompanied by a video or two (or three) showing typical users ecstatically using the new features.
Now, this was Radio City, so instead of videos we got awkward, rather cheesy on-stage skits along with some tap-dancing and a full-scale orchestra. But otherwise, the presentation was business as usual.
Here's what wasn't on the stream, but what usually happens after these presentations: Once the show is over, comes the rush. Hundreds of eager journalists, determined to get their impressions out to their readers before anyone else, dash (with cameras, smartphones and various related paraphernalia) to the tables that have the test devices ready. For the next couple of hours, a crowd several layers deep pushes around each table, each person hoping for a chance to handle one of the devices. Meanwhile, they take photographs, peer over shoulders, offer suggestions on what to test next and triy to figure out if there's a better chance at the next table.
First impressions
In the midst of this chaotic scene, I was able to get my hands on one of the sample smartphones for a few minutes.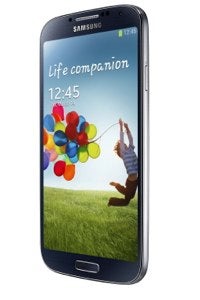 It did feel like a well-made and potentially great piece of hardware. It felt lightweight and comfortable; the screen (5-in. 1920 x 1080 Super AMOLED HD) looked as bright and clear as promised. I went through a few screens and watched a short video, and it performed well. (I couldn't say what processor it was using; apparently, the devices that hit the U.S. market in late April will have a 1.9GHz quad-core processor while some other markets will have a 1.6GHz octa-core processor.)
I tried out the 13-megapixel camera, which took pretty good photos of the surrounding crowd. I even managed to briefly try out the Dual Camera function, in which a small square showing the front camera's output appears on top of the rear camera's output.
I was able to try the Air Gesture feature -- which lets you swipe through browser pages, among other things, without actually touching the display. On the other hand, I was not able to make the Smart Pause work; no matter how intently I looked at a video, when I looked away, the video continued to play away happily.
Samsung's Android overlay looked well designed, although, like our own JR Raphael, I tend to prefer my Android without interference. However, there's the possibility that I could get used to it -- or even come to prefer it.
I did notice -- as has several other commentators -- that several of the "new" features touted by Samsung are addendums to, or replacements of, features that are already offered by Google, such as voice activation (which Samsung calls the S Voice Drive) or language translation (Samsung's S Translator). There are differences -- for example, the S Translator apparently doesn't need an Internet connection -- but it is interesting that Samsung is looking for its own versions of existing Android functionality.
I won't go through all the specs and features of the phone in this blog. For one thing, it's been covered thoroughly elsewhere, including here at Computerworld.
And I won't insult your intelligence by pretending that I was able to get a proper hands-on experience with the sample Galaxy S4 over those 20-odd minutes. First looks can be interesting and satisfy our Web-fed need to know what the product is like right now -- but until an experienced reviewer can have some quality time putting a device through its paces without a company rep hovering nearby, I wouldn't want to make a real buying decision based on it.
With any luck, we will be able to offer you that review -- and a better idea of what the Galaxy S4 is really worth -- when the phone actually ships in late April.
And meanwhile, we'll all wait for the next big product introduction -- and the next circus to come to town.