Today's Apple [AAPL] alert claims the company's Asia Pacific manufacturing and component partners have seen orders cut as the firm faces falling sales, allegedly -- though perhaps there's another reason for what's going down.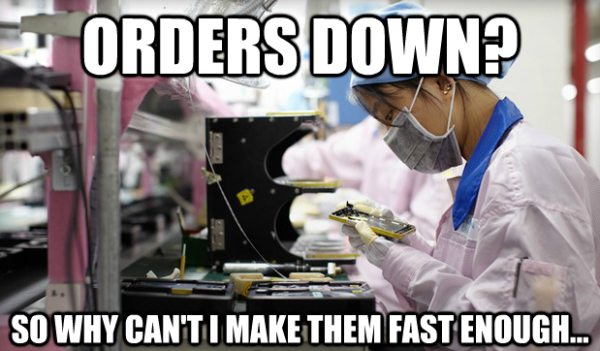 Is down down?
Topeka Capital analyst, Brian White, this morning claims that his Apple Monitor (a list he keeps in which he watches the fortunes of firms he's identified as key within the Apple supply chain) is down 31 percent sequentially for February, suggesting the company had "the worst February on record".
His assessment is that if Apple suppliers are seeing low orders, that's a good sign that Apple is itself experiencing a tough month. The malaise extends way beyond Apple, he adds, telling investors:
"That said, we are noticing that most of the preliminary Taiwan Monitors experienced weaker than average trends this February and certain Monitors are delivering one of the weaker performances on record."
As I argued some time ago, it seems inevitable that Apple will feel the pressure of the recession that is engulfing the global economy. Even China isn't immune to the effects of this fall, as manufacturers there face declining order books as big brand names see orders fall.
Now it seems the whole industry is affected, meaning canny investors may want to ask themselves if Apple's feeling the pressure, then who isn't?
White notes that Foxconn parent company, Hon Hai, also saw orders decline 25 percent on January. Hon Hai manufactures product for most of the big names in the industry, so this doesn't necessarily indicate a decline in Apple's orders -- and should be considered in conjunction with the next news nugget:
New hires rise
TSMC (Apple's new chip maker) and Hon Hai have announced plans to add 5,000 jobs in each firm. At Hon Hai staff will be working in R&D at first, before moving into production.
"The new hiring may indicate that Apple and its suppliers are gearing up for a new wave of Apple products," writes AppleInsider.
Apple is expected to introduce new iPhones and iPads this year. The company is also speculated to be planning an Apple television and/or an iWatch.
Each of these products will require new production lines and component orders. It is also fairly certain Apple is already working on the next generation of it's A-series chips for deployment in future devices, which would also require new production lines.
In recent years Apple has kept us guessing when it comes to its product release plans. The last generation iPhone appeared in autumn, but had originally been predicted to debut in mid summer.
The company has traditionally used its pre-Christmas (October time) announcements to introduce completely new products, such as last year's iPad mini. The thinking behind doing so has to be an attempt to capitalize on the Christmas market with the latest Apple consumer technology item. And the plan seems to work.
Schedule reshuffle?
This leads me to speculate that in the event Apple does intend launching an iWatch or Apple television device this year, then it makes sense for such an item to appear in the pre-Christmas shopping haze. In that event, the company may choose to bring its iPhone release schedule forward, in part also to compete more strongly with others, principally Samsung.
There have been several recent rumors claiming Apple intends a summer release of new iPhones. If this is the case then it seems likely the company would expect iPhone sales to decline (as they usually do in advance of product upgrade) and would reduce its component orders to reflect this. Apple will inevitably have a stockpile of available components from which to draw meanwhile.
My reading of the Topeka Capital report, then, is as follows:
Consumers are becoming even more price conscious and even less prepared to make major investments in new gadgets.
Apple may plan a mid-summer iPhone upgrade, which would cause it to reduce component orders in preparation.
If Apple does indeed introduce new iPhones this summer, then it will be interesting to see what it chooses to introduce in the hallowed Christmas/October release slot.
Might this be a new product, such as the iTunes streaming music always connected iWatch?
Whatever Dan Lyons says, I suspect the Topeka Capital report is picking up on changes in Apple's inventory levels, and, of course, the continued blight afflicting the wider consumer electronics industry. A blight to which I'd be extremely surprised to find Apple is immune.
Got a story? Drop me a line via Twitter or in comments below and let me know. I'd like it if you chose to follow me on Twitter so I can let you know when these items are published here first on Computerworld.