London law decides if Mike Lynch is a crook.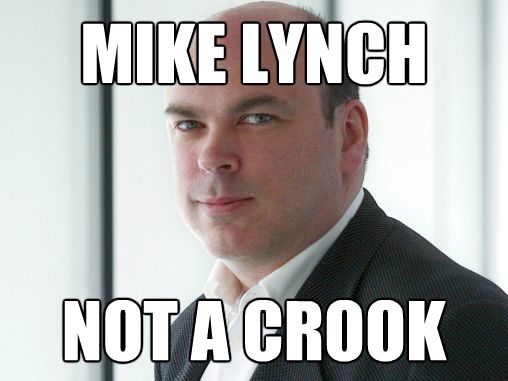 Hewlett-Packard (NYSE:HPQ) gave evidence about its Autonomy allegations to the Serious Fraud Office (SFO) last month, it's emerged. The non-ministerial government department enforces the anti-fraud and -corruption criminal law in England, Wales, and Northern Ireland.
In IT Blogwatch, stuff gets serious for Lynch and his former staff.
Your humble blogwatcher curated these bloggy bits for your entertainment.
Anonymous AP apparatchiks scribble tirelessly:
The inquiry, by the [SFO], is the latest legal fallout from a deal that has saddled [HP] with huge losses. [HP] accused Autonomy employees of fabricating sales.

...

Autonomy's founder and former chief executive, Mike Lynch, has stridently denied [the] claims.  MORE
Danielle Kucera adds color:
The SFO informed Hewlett-Packard of the investigation Feb. 6, and follows the U.S. Justice Department in probing Autonomy. ... The writedown and faltering performance of the acquisition are complicating efforts...to revive growth after years of botched deals, management tumult and diminishing demand for [PCs].

...

David Jones, a spokesman for the SFO, confirmed that the agency has opened an investigation. ... He declined to say which individuals are under investigation. ... The FBI, responding to an inquiry from the SEC, is looking into [the] allegations, a person familiar with the matter said in November.  MORE
Tom Foremski's analysis is infectious:
The fallout to the disastrous deal could result in a major shakeup of HP's board [such as] removal of chairman Ray Lane, a veteran Silicon Valley executive at Oracle, and...top VC Marc Andreessen.

...

it is very rare for a serving chairman to receive a recommendation of opposition from ISS, the leading shareholder advisory firm. [It said] there was not enough due diligence by the board.  MORE
And Arik Hesseldahl adds 2+2:
It further explains a report...last week, saying that Mike Lynch...has hired Reid Weingarten of Steptoe & Johnson as his defense lawyer [who has] represented filmmaker Roman Polanski and Enron executive Richard Causey.  MORE
But Mike Lynch (for it is he) "utterly rejects" the allegations:
It was shocking that HP put non-specific but highly damaging allegations into the public domain without prior notification or contact with me.

...

Autonomy's finances, during its years as a public company...were handled in accordance with applicable regulations and accounting practices [and] were overseen by independent auditors Deloitte LLC, who have confirmed the application of all appropriate procedures including...the International Financial Reporting Standards used in the UK.  MORE
Meanwhile, the curiously-named oxtail01 draws a broader picture:
The last two former HP CEOs basically destroyed the once proud company. This fiasco is just one example.  MORE
Computerworld Blogs Newsletter
Subscribe now to the Blogs Newsletter for a daily summary of the most recent and relevant blog posts at Computerworld.