Key Lime Pie? What Key Lime Pie?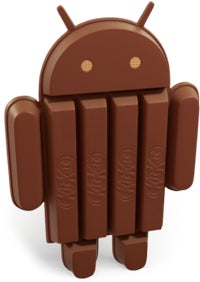 Google sent a shock through the Android community this morning when it announced the next version of Android will be Android 4.4, KitKat. That's a big twist from the long-standing expectation that this fall's release would be numbered 5.0 and called Key Lime Pie.
So what gives? According to the BBC, the decision to go with KitKat actually happened late last year and has been kept under wraps, so to speak, ever since. Google apparently reached an agreement with Nestle to use the name -- one that's "not a money-changing-hands kind of deal," as a Google exec explains it.
(As for the number, 5.0 was never anything more than speculation. Google never discusses Android version numbers during its software development phase.)
Given this new turn, I thought it'd be a good idea to break down everything we know about the upcoming new Android KitKat release. I've painstakingly compiled an exhaustive list of every detail available about the software. No rumors or unconfirmed buzz here, folks -- just pure, hard fact. Every last oozing drop of it.
So grab your finest spectacles and get your noggin ready: Here is everything we actually know about Android 4.4 KitKat:
1. It will be numbered 4.4 and called Android KitKat.  
Whew -- did you get all that?
All snarkery aside, the point is this: Google didn't actually tell us much of anything today. We got a name and a number -- and that's it. We don't even know vaguely when the thing will be released.
(Full disclosure: I did have a brief hands-on with KitKat this afternoon. I can tell you that it's smooth and buttery, a bit fragmented, and somewhat lacking in stamina. But I wouldn't put too much stock in those findings.)
Much ado about nothing, right? Not exactly. Here's the real story today: Without revealing anything of actual substance, Google managed to generate loads of excitement and steal the spotlight away from Apple's iPhone event announcement.
That, my friends, is a well-played move. A move that wouldn't have been possible just a few short years ago, when Android was a market-minority afterthought and the utterance of "new iPhone" was enough to drown out all other tech news for days. And if today's tease is any indication, this is just the beginning of an intense battle for your attention -- and your buying dollars.
Make no mistake about it, gang: The next couple of months promise to be anything but dull here in the mobile arena. It's on, baby. Let the games begin.