Paul Graham: "Don't say things people want to misunderstand."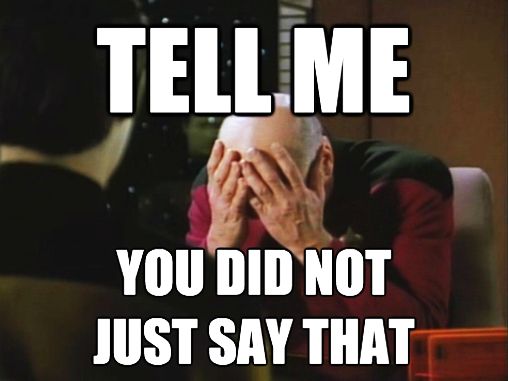 Does Y-Combinator-founder Paul Graham sound racist? Twice this year, the big-cheese VC has been quoted saying that people with foreign accents often make lousy startup CEOs. But he's unrepentant, denying he said anything remotely racist, telling his critics they "want to misunderstand" his point.
In IT Blogwatch, bloggers dig out the Picard double-facepalm meme.
Your humble blogwatcher curated these bloggy bits for your entertainment.
Issie Lapowsky talked to Paul Graham:
As co-founder of Y Combinator, the Silicon Valley tech accelerator, Graham has made a career of turning half-cooked business ideas into fast-growing companies in a matter of months. ... Among the 564 companies Y Combinator has funded over the past eight years are many runaway hits, including...Dropbox...Airbnb, and...Reddit. ... Y Combinator companies have collectively...a total valuation of $11.7 billion. ... [I asked him] about the current start-up landscape and what it takes to build companies for fast growth.

...

How has your method of assessing Y Combinator applicants changed since it launched? ...

"One quality that's a really bad indication is a CEO with a strong foreign accent. ... It could be that there are a bunch of subtle things entrepreneurs have to communicate and can't if you have a strong accent. Or...they must just be clueless if they haven't gotten rid of their strong accent.".  MORE
Nathaniel Rich also talked to Paul Graham, a few months ago:
...after ranking every Y.C. company by its valuation, Graham discovered a...correlation.  

"You have to go far down the list to find a C.E.O. with a strong foreign accent. Alarmingly far down — like 100th place. ... It's just fine, as long as everyone can understand you.".  MORE
So Om Malik says that attitude has no place in Silly Valley:
unless you know the context or nuance of Graham's observation [it] quickly becomes a fact...which ultimately eat away at the meritocratic foundations of Silicon Valley. ... Whenever we talk about accents, race or gender, I'm reminded of that scene from Moneyball, when Oakland Athletics general manager Billy Beane...is sitting in a room with...baseball experts [who] were falling back on fallacies — arguments that sounded good even though facts stated otherwise.

...

Andy Grove, the legendary chief executive of Intel and a Hungarian by birth, has an accent. Andy Bechtolsheim, who...started Sun Microsystems...has a mild accent. And so do Vinod Khosla (Sun, Khosla Ventures) and Jayshree Ullal. ... How about Arianna Huffington and the founders of Zoosk? ...everyone speaks with an accent. Accents are what make us unique.

...

There is one pattern which has mattered in Silicon Valley in the past — a pattern of brilliance. And it is the only pattern that should matter — everything else is just a fallacy.  MORE
Nitasha Tiku is less even-handed:
Graham once again openly espouses his theory that speaking with a strong foreign accent somehow correlates to being a bad CEO. ... Worse, he tries to present his dubious logic as some quasi-scientific finding...by bringing up how foreign accents don't fit the pattern he noticed over the years...surprise [it's] merely a communication issue.

...

What horrible entrepreneurial instinct correlates to a strong foreign accent? ... Graham doesn't specify.

...

I reached out to Graham. [His] evasive response: "It's fine to have a foreign accent as long as people can understand you. ...you're presumably planning to misrepresent me as having said [something] xenophobic. But I didn't say that."  MORE
Paul Graham tweets in his defense:
I meant [an accent] so strong that people can't understand them. ... The interview they printed was boiled down from a longer one.

...

Don't say things people want to misunderstand. ... Accent isn't race.  MORE
But Anil Dash spots the unintentional irony:
So you're saying that your statement in English wasn't clear enough to be properly understood?

...

Would love to read an essay on how your pattern matching isn't systematic exclusion. ... Look at YC alums: they look like a level playing field to you? ... SV is super racist.

...

Apple indisputably did its best when they had a guy who was Arab as CEO. ... Jobs' father is Syrian.  MORE
Computerworld Blogs Newsletter
Subscribe now to the Blogs Newsletter for a daily summary of the most recent and relevant blog posts at Computerworld.