Don't ask about iPhone 5C or 5S release dates.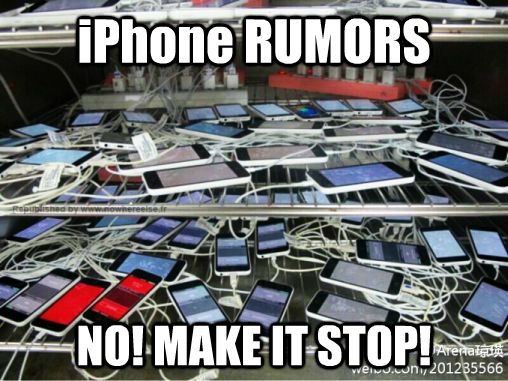 Apple (NASDAQ:AAPL) watchers are prognosticating their little hearts out, as we approach the launch (probably) in two weeks (probably) of the new iPhones (probably), branded 5S (probably) and 5C (probably). You're (probably) wondering if there's anything new to say. Well, yes, there (probably) is.
In IT Blogwatch, bloggers wonder if, at this point, anybody cares two hoots about this stuff.
Your humble blogwatcher curated these bloggy bits for your entertainment.
Bonjour, Steve "Stagueve" Hemmerstoffer: [found in translation]
If you still doubt the impending launch of the iPhone 5C, this picture...should finally convince you that this plastic model is indeed about to be launched.

...

[They] could be just vulgar early Chinese copies. So you should take this leak with a pinch of rumor salt. ... It was supposedly taken at the end of an assembly line...by a former QA employee of Pegatron. [It's] our first opportunity to see an iPhone 5C running.  MORE
Richard Lai peers at it:
When we spotted this photo...we were close to dismissing this as just a bunch of iPhone 5C knock-offs [but] this spy shot came straight out of Pegatron's Shanghai plant [from a] cheeky employee -- or more likely an ex-employee at this point -- in...the company's quality control department. ...this appears to be a warm-up procedure (likely just with small batches for quality control).

September couldn't come any quicker for leaky Apple.  MORE
And Romain Dillet wonders about the 5S:
Apple has designed a new dual-core A7...for the iPhone 5S. If rumors are true, the A7 could supposedly be 31 percent faster. ... It could indicate that the smartphone market may have matured and that existing smartphone owners won't feel the urge to upgrade.

...

The iPhone 4S was twice as powerful as the iPhone 4, and had nine times the graphics processing capabilities. The iPhone 5 was...twice as fast as the iPhone 4S, with twice the graphics performance. [So a] 31 percent performance boost is lackluster.

...

Android phones are more powerful. ... If Apple judges that current chips are becoming fast enough to power iOS for years, iPhone users shouldn't expect speed increases. [So] Apple faces a difficult challenge. ... How do you convince your customers to upgrade their phones?  MORE
But, standing at the door of the Pink Flamingo, our own Jonny Evans throws up a powerful pun: [I'm gonna make sure it never happens again -Ed.]
The most interesting...iPhone rumor this week isn't the faster speed...but the claimed introduction of a motion sensor.

...

I suspect Apple...is on course to create...3D gesture controls. ... I suspect it won't appear until next year, when an iOS upgrade will permit...gesture control...for iOS in the Car [and] Apple TV.

...

Wave hello, Siri goodbye.  MORE
Meanwhile, it falls to Chris Rawson to look upon the rumor-mongers and despair:
The closer we get [the] less dumb the rumors get. ... There are still some clunkers...there always are.

...

"Well-connected insider" is apparently the new way to say "standup philosopher." ... "Based on caliper measurements, the iPhone 5C measures"...ZZZzzzz... *snrk* Huh, wha?

...

Journalism!  MORE
Computerworld Blogs Newsletter
Subscribe now to the Blogs Newsletter for a daily summary of the most recent and relevant blog posts at Computerworld.