Climb aboard the Apple [AAPL] rumor train as manufacturer, Pegatron, announces plans to increase its workforce by 40 percent in the second half of the year, as it presumably plans to produce millions of the low cost iPhones we're expecting as part of Cupertino's major new product cycle.
[ABOVE: Nickolay Lamm has created this artist impression of what the low-cost iPhone may look like.]
Major product cycle
Pegatron isn't claiming its 40,000 new recruits will be tasked with iPhone manufacture, but it is probable Apple has become its biggest customer. Previously, Foxconn also revealed plans to hire thousands of new workers in the same period.
According to statements by Pegatron CFO, Charles Lin,the company expects 60 percent of its revenue for 2013 to come in the second half of the year, 40 percent of which will relate to the manufacture of "communications products". I don't think we're talking morse code or 2-way radios here…
Apple had been expected to accelerate its product introductions this year. This hasn't transpired and company CEO, Tim Cook moved to reset this expectation during last month's financial analysts call -- while also warning industry observers to expect new product categories from the firm.
"Our teams are hard at work on some amazing new hardware, software, and services that we can't wait to introduce this fall and throughout 2014. We continue to be very confident in our future product plans," he said.
On new product lines, Cook was less forthcoming (italics mine):
"We see great opportunities in front of us, particularly given the long-term prospects of the smartphone and tablet market, the strength of our incredible ecosystem, which we plan to continue to augment with new services, our plans for expanded distribution, and the potential of exciting new product categories."
With speculation claiming an Apple television, iPhone mini/nano and iWatch, market watchers took Cook's mention of new categories as a hint that at least some of these rumored products are on the way.
"We do not believe Apple has hinted to new product services and categories in the past, making Cook's comments tangible evidence innovation is alive at Apple," said analyst, Gene Munster.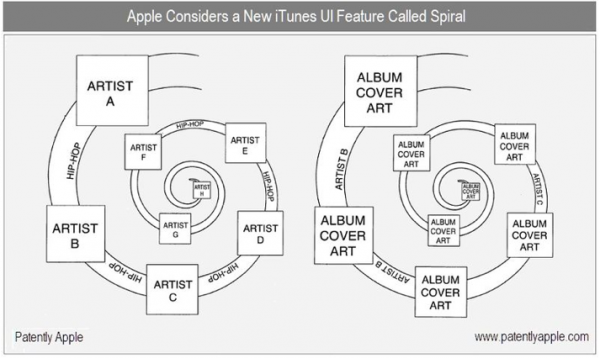 Apple has made huge capital investment in new devices
Pegatron's admission that it intends increasing its workforce in preparation for a manufacturing and profit jamboree in 2H13 matches well with previous claims by analyst Kate Huberty that Apple is preparing to begin June/July production of new devices, set for introduction in September.
A short look at Apple's capital expenditure in recent years also bolsters expectation of new devices from Cupertino.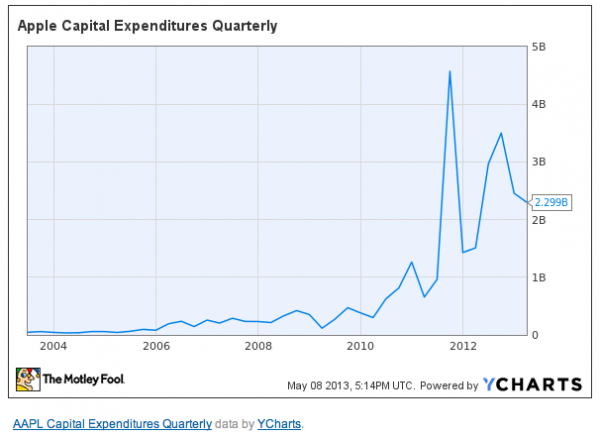 The company's capex rose dramatically in 2011, declined slightly then quickly climbed once again -- just look at this chart (put together by Motley Fool) for a visual representation of the huge amount of cash Apple has been spending across the last 36 months.
It seems logical that some of this was dedicated to bringing new manufacturing partners up to speed while Apple worked to dump litigious former partner, Samsung.
It may also be logical to assume Apple was forced to delay some investments in new product manufacture while it replaced its former ally; in order to keep its plans hidden from its untrustworthy competitor.
The second spike in capex could therefore reflect investment in new product innovation after replacing the Galaxy box shifter.
[ABOVE: This was the impact of the iPod nano on iPod sales. This is the pattern I expect to see on launch of a lower cost iPhone model. Sorry the image is quite poor]
...and a new iOS to rule them all
New devices, new OS: Apple is working on iOS 7 which will make its first public appearance at WWDC and ship in September.
Apple's beta testers are finally taking the OS public. iOS 7 began appearing more frequently on traffic records around April 30, according to Onswipe.  ArsTechnica has also seen the OS appear on its traffic reports, mainly running on iPads.
That last detail is also interesting because its thought iPad mini sales have slowed slightly. Pegatron manufactures this device for Apple and disclosed that Q2 revenue had declined as production slowed. NPD DisplaySearch this week claimed production of Retina Display panels for the iPad mini will also begin in June/July.
We hope you enjoyed this journey on the Apple rumor train. Before you leave I'd like you to consider the following:
Apple is likely to have been forced to delay new product launches while it worked with new manufacturers, following the disposal of Samsung.
Reports from Foxconn and Pegatron suggest truth behind the whispers from across the Apple supply chain that the company is now ready to enter a new product cycle.
Cook's warning that Apple may enter new product sectors lends some substance to claims of such devices as the iWatch.
Apple's iOS is being significantly revised. The revision is unlikely to be just about abandoning skeumorphic design: it is far more likely it will involve subtle changes within the user interface designed to enable the iOS to run logically on a wider set of products.
Apple has created a feast of pent-up demand while analysts and industry watchers complain it has lost its way. When the company chooses to show us what it has been working on, it is likely to generate significant interest.
With these thoughts in mind it appears to me that Apple has set the scene for significant product introductions in which the firm is unfettered from partners it no longer trusts.
I imagine Samsung, Google and others are quaking in their boots. Apple is now completely beyond their control. The company is also motivated to cause its faithless ex-partners as many problems as both firm's actions created for Apple's senior management -- just look at the language in Apple's recent amicus brief. 
"Google is the developer of the Android operating system running on the Samsung smartphones that Apple seeks to enjoin in this case," Apple said. "That interest conflicts with the traditional role of an amicus as an impartial friend of the court -- not an adversary party in interest in the litigation."
Got a story? Drop me a line via Twitter or in comments below and let me know. I'd like it if you chose to follow me on Twitter so I can let you know when these items are published here first on Computerworld