Windows Phone has overtaken the iPhone in Italy, and it may well be a harbinger of things to come. Given the big gains it's made in the last year, it could beat the iPhone throughout Europe. Where in the world is next?
The latest figures from Kantar Worldpanel ComTech show Windows Phone jumping to a 13.7% market share in Italy for the third quarter, up from 10.8% a year ago. The iPhone, meanwhile slid to 10.2% from 14.2%.
Windows Phone has made similar gains throughout the biggest countries of Europe. In Great Britain, it's up to 11.4% compared to 4.2% a year ago. In Germany it's at 8.5% compared to 2.5% a year ago. In France, it's now at 10.7% compared to 5.2% a year ago. In Spain, the numbers are not that good, 3.7% compared to 2.2% a year previous. Overall, in these five major European markets, Windows Phone now has a 9.8% market share, compared to 4.6% a year ago. The iPhone, meanwhile, fell from 16.8% a year ago to 14.6% now. At this rate, it might not be too long before Windows Phone beats iPhone in the biggest European markets.
Even in the U.S. where Windows Phone has struggled, it's up to a 4.6% market share, Kantar Worldpanel ComTech found, compared to 2.7% a year ago.
The surge in Europe may herald big gains for Windows Phone elsewhere, notably in Latin America and other emerging markets. Windows Phone is grabbing market share in Europe primarily because of Nokia's traditional strength there. And Nokia may well help Windows Phone become the leader in Latin America, because many people there will be upgrading from Nokia feature phones to low-cost Nokia Windows Phone smartphones. Dominic Sunnebo, strategic insight director at Kantar Worldpanel ComTech says:
"Nokia dominated in Latin America for many years, and while its popularity declined with the fortunes of Symbian it now has an opportunity to regain the top-spot. The majority of consumers in Latin America still own a Nokia featurephone and upgrading to an entry level Lumia is a logical next step. Price is the main barrier in developing markets and the budget Lumia 520 opens the door to smartphone ownership for many."
Given that at the moment, Android has 73.4% market share to Windows Phone's 5.8%, that might not happen for some time, if ever.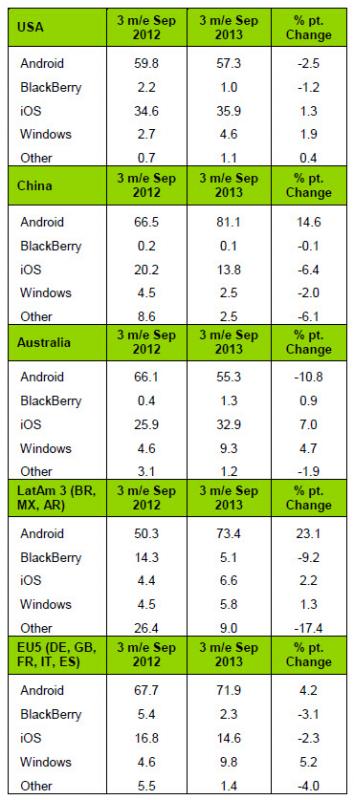 Still, all this is clearly very good news for Microsoft. And it may also show that Microsoft made the right move by buying Nokia. Kantar Worldpanel ComTech found that Microsoft's gains were made a result of Nokia, with no real help from any other smartphone maker. If Microsoft didn't buy Nokia, there was a chance the company could have switched to Android, and Windows Phone would essentially have been dead.