Asus MeMO Pad Smart: Hands on with the new $300 10-inch tablet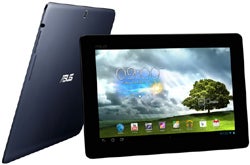 Asus has made some pretty nice Android tablets over the years, including the affordable Google-influenced Nexus 7 -- so when I heard the company was working on a new low-priced 10-in. model, I was immediately curious to see what it was all about.
The tablet is the Asus MeMO Pad Smart, a.k.a. TF301T. The MeMO Pad Smart (a seriously tedious name to type) goes on sale in the U.S. next Tuesday, March 5, for $299.
I've had the device in my office for about a week now. For the most part, it's fairly standard midrange fare: a 10.1-in., 1280 x 800 IPS display along with a quad-core 1.2GHz Nvidia Tegra 3 processor and 1GB of RAM. The MeMO Pad Smart has 16GB of internal storage and a microSD card slot for external expansion.
The slate packs a 5-megapixel camera on its back and 1.2-megapixel lens on its front. In terms of battery life, it's listed for 7.5 hours of HD video-streaming or 8.5 hours of general use.
The most interesting thing about the tablet is really its price: Three-hundred bucks for a name-brand 10-in. tablet is just low enough to make you go "hmm."
But is the Asus MeMO Pad Smart actually worth buying? Some thoughts based on my time with the device:
Generally speaking, the MeMO Pad Smart is a very decent tablet. It's relatively thin -- 0.39 in. -- and reasonably light, at 1.3 lb. It feels okay in the hands but not great; the back panel is a hard, plasticky material that's sturdy but a bit slippery and hard to hold.
A 1280 x 800 IPS screen was impressive back when Asus's Transformer Prime came out in 2011, but a lot has changed in display technology since that time. Compared to the screen on a tablet like the Nexus 10, which offers a 2560-x-1600 pixel experience, the MeMO Pad Smart's screen looks decidedly dated. It's by no means awful, mind you, but next to today's higher-end technology, it has a rather muted and grainy-looking appearance.
Performance is solid -- about what you'd expect from a tablet with these specs. Getting around the system is fast, and I've had no major complaints with Web browsing speed, video streaming smoothness, or app-switching capability. That said, compared to tablets with 2GB of RAM, things do feel less snappy: Swiping between home screens can be somewhat jittery, for instance, loading an app takes just a little longer than you expect, and animations are slightly jerky at times.
The MeMO Pad Smart ships with a lightly customized (and moderately bloatware-encrusted) version of Google's Android 4.1 Jelly Bean OS. (Asus says it's Android 4.1.2, though my review unit had Android 4.1.1 -- not a huge difference, either way.) As a result, it uses the old Honeycomb-style tablet interface

as opposed to the more phone-like UI that's standard for 10-in. tablets as of the Android 4.2 release. For most users, particularly those who are new to the world of Android tablets, I suspect this will be a negative. (Asus hasn't released any official information as to if or when the tablet will be upgraded.)
All considered, the Asus MeMO Pad Smart is a solid midrange tablet and a decent buy for $300. The problem is that it's hard not to compare it to the Nexus 10 -- which, at $400, offers a substantially better experience in almost every regard.
The Nexus 10 has a drastically better display as well as better performance, thanks in part to its 2GB of RAM. Its form is superior to the MeMO Pad's, with a thinner profile, front-facing stereo speakers, and a rubberized backing that's noticeably nicer to the touch.
Hardware aside, as a Nexus device, the Nexus 10 ships with the latest Android software -- and thus the current Android tablet interface as well as multiuser support -- and is guaranteed to get future OS upgrades instantly as soon as they're released. It also runs a completely pure version of the software, with no baked-in bloatware or arbitrary UI modifications.
In a world where the Nexus 10 didn't exist, the MeMO Pad Smart would be a no-brainer at $300. But the Nexus 10 does exist, and what's more, it exists as a high-end device being sold at a midrange price.
If you want a 10-in. tablet and have a strict $300 budget, the MeMO Pad Smart is a fine device for that amount of money. If you can justify dropping an extra hundred bucks, though, you'll get a vastly superior product with the Nexus 10.
The prices are just too close not to compare -- and unfortunately for the MeMO Pad, it doesn't feel like a fair fight.
Shop Tech Products at Amazon