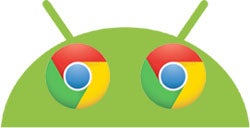 Google's Chrome Beta app for Android just got a healthy-sized update -- and there's more to it than meets the eye.
In addition to the slew of added gestures and functions announced by the Chrome team, the latest Chrome Beta update includes a hidden sneak peek at a redesigned new tab page under development for the browser. You just have to know where to find it.
To see the new start page, first make sure you're using the latest version of the Chrome Beta app. Then, type chrome://flags into the browser's address bar and look for the item called "Enable the new NTP." Tap the "Enable" link below it, restart your browser and open up a new tab, and whoomp: There it is.
The updated start page features a large Google logo in the center along with a search box and voice-command icon. Your most visited pages show up in thumbnails at the bottom of the page along with buttons to access your bookmarks or open pages from other devices.
You can open a URL or conduct a Web search by tapping the search box -- or by tapping the open area at the top of the screen where the address bar would usually reside. When you do, the screen will change to something like this:
This is all clearly a work in progress (hence the hidden placement within the Chrome flags section); the voice-command icon doesn't yet work, and tapping the Bookmarks or Other Devices buttons takes you back to those respective sections in the old-style start page.
Still, it's an interesting glimpse at what's under development -- and, more than likely, coming soon to a mobile browser near you.