Google's Android 4.2 release lets you put widgets on your lock screen -- and as more developers embrace the feature, it's becoming increasingly useful.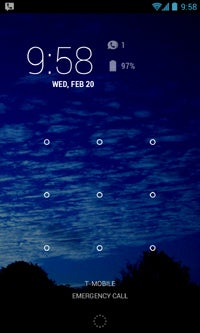 A relatively new app called DashClock is arguably the best use of lock screen widgets we've seen so far. DashClock lets you add slick-looking custom notifications to the Android 4.2 lock screen -- and the coolest part about it is that it's infinitely expandable: In addition to its native notifications, DashClock supports third-party extensions that provide notifications for everything from Twitter to your phone's battery status.
Now, you can add Google Voice to the list. A new DashClock extension called AnyDash lets you put Google Voice alerts -- as well as notifications for many other applications, like Google+ and Google Talk -- onto your DashClock widget.
Want to give it a whirl? Here's all you have to do (and remember, this requires Android 4.2+):
• Install DashClock, if you haven't already, and add it to your Android 4.2 lock screen. (If you aren't familiar with Android 4.2 lock screen widgets in general, see this story for a primer.)
• Install the free AnyDash extension.
• Go into the DashClock settings (by dragging down on the lock screen widget and then tapping the settings icon). Select "Add Another Extension" and then "AnyDash."
(Note: Because of the nature of the program, AnyDash requires you to enable it as an Android Accessibility service -- which in turn causes a strongly worded warning to appear on your screen about the type of access you're granting. This same sort of warning appears when you set up applications like Tasker and third-party keyboards. If you don't feel comfortable with the permissions any app requires, you shouldn't proceed with its installation.)
• Tap the "Select an app" option and then select "Voice" from the list of apps that appears.
• Tap the "Select an icon" option and then select the "Voice" icon from the list that appears.
• Check the boxes next to "Show message counter" and "Stack messages."
That's it! Now just close the DashClock configuration panel and you should be all set.
It's worth noting that the AnyDash extension is still early in its development and is described as a "work in progress." Some users have reported issues with it working properly in certain conditions on their devices. I've been using it with Google Voice on a Nexus 4 and it's been running smoothly for me; hopefully your experience will be equally good.
Craving even more Android Power? Check out my recent collection of five fresh Android apps worth adding to your arsenal. DashClock was one of 'em -- and the other selections are no less interesting to explore.