Opera Software acquires Skyfire Labs.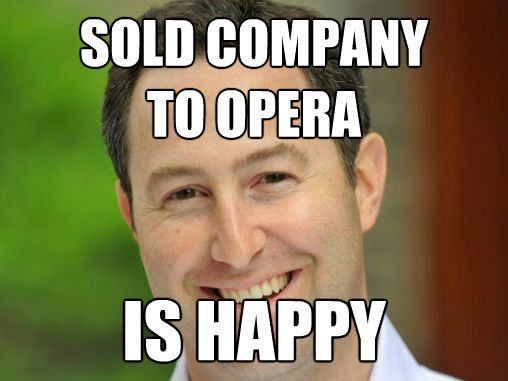 The browser-maker Opera Software (PINK:OPESF)  had a barnstorming quarter and is to purchase the video-compression outfit, Skyfire Labs. Skyfire's CEO (pictured) seems happy. Mind you, your humble blogwatcher didn't even know that Opera made any money at all. Like many of us, I assumed the company gave away its software for the love of it.
In IT Blogwatch, bloggers work out where all the money comes from.
Your humble blogwatcher curated these bloggy bits for your entertainment.
Jeremy Kirk is the voice of the Enterprise: [Why must you continue to flog this dead horse? -ed.]
The deal is valued at $155 million. ... Skyfire, based in Mountain View, California...with its Rocket Optimizer...compresses video and other multimedia content for faster delivery. ... Skyfire also makes Horizon, which it describes as a mobile browser extension and toolbar that allows people to personalize their browsers [and] can be customized by operators.

...

Opera also announced on Friday its results for the fourth quarter of 2012. Revenue [was] $60.7 million, up 39 percent. ... A bright spot for Opera was revenue from mobile advertising...$19.6 million, up from $4.1 million. ...the total number of Opera users on mobile devices came in at 229 million, up 30 percent.  MORE
Where's all this money coming from? Stephen Shankland tells us thus:
Opera...gets paid for adapting its browser for mobile network operators and for driving searches to sites like Yandex and Google. ... Skyfire's technology can cut video bandwidth and adapt quickly to sudden drops in network capacity.

...

Skyfire CEO Jeffrey Glueck will become executive vice president of Opera's operator business. ... It's not the only big change for Opera. This week it also announced it's...moving to the open-source WebKit.  MORE
So David Meyer analyses the strategic shift:
...you may have been forgiven for thinking of Opera as a worthy but dull fading player. ... No longer.

...

the two companies have remarkable similarities. Opera [is] best known for using server-side compression [to reduce] data costs, and Skyfire uses server-side rendering for video [good] for those who really miss Flash. ... This is really about mobile carriers. ... The key there is the carriers' current shift to software-defined networking (SDN). ...they will over the next year roll out new products for carriers...with new ways of offering mobile web access, such as "toll-free data" and "ad-supported data."  MORE
Yes, deutschephones, Skyfire's Jeff Glueck is both happy and lucky:
Skyfire will remain Skyfire, as a brand, as an independent subsidiary, and as a vision. [It's a] validation of our vision for cloud computing and network function virtualization (NFV) to solve huge problems on mobile networks.

...

We have long shared an ethos with Opera, which practically invented cloud-based compression and server-side acceleration. ... Opera has tremendous reach in...places like Brazil, Russia, India, and China. ... The next billion Internet users will be mobile users.  MORE
But a potty-mouthed Kurian Abraham ain't buying the Barney:
Bull**** idea. Locally installed apps and video streams directly decoded by the client are the only viable methods that give a proper UX. No one wants unresponsive bull**** UIs.  MORE
Computerworld Blogs Newsletter
Subscribe now to the Blogs Newsletter for a daily summary of the most recent and relevant blog posts at Computerworld.