Apple [AAPL] CEO, Tim Cook, spoke at the annual Goldman Sachs technology conference today, shortly before dashing to sit with the President's family during the annual State of the Union speech. What follows are some of his most thought-provoking points.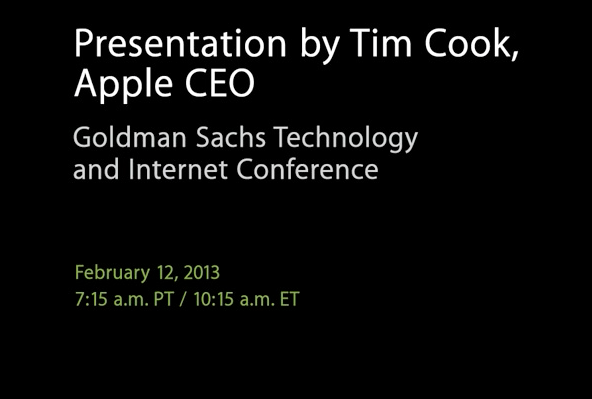 [ABOVE: Tim Cook's presentation is available to listen to here for a short time.]
Depression-era mentality?
That litigation from unruly shareholders? It's a side-show, said Cook, pointing out: "Apple doesn't have a depression era mentality. Apple makes bold and ambitious bets on products, but we're conservative financially. Yet, if you look at what we've done in terms of investment -- last year we invested $10b in capex and expect to do the same this year."
The CEO also pointed out that the company's plan to return $45b to investors is well under way, saying: " I don't know how someone with a depression era mentality would do some of those things." He added: "We do have some cash and it's a privilege to be in that position."
Cook also characterized Einhorn's litigation against the company as a waste of time and money, a "silly side show". "I'd rather all involved took the money they're wasting on this and donated it to worthy causes," he said.
Apple won't campaign for victory in this, "There will be no 'Yes to Clause Two' sign in my front yard," the CEO joked.
What the people want
"Customers want a great experience. They want that 'aha moment when they use a product. Companies deliver specifications when they can't deliver the experience. Do you know the speed of an AX processor? You probably don't. What most people want is a great experience…
"I'm not going to comment on what we're going to do in the future as that releases the magic and I'm not going to do that."
"The only thing we'll never do is make a crappv product. We're going to make a great product. That's the only religion we have. We want to do great products…"
On customer experience
I'll paraphrase here: back in the olden days people would each manage a slice of an ecosystem. Some might make hardware, others software, others services. They would hope the end result made for a great customer experience.
Apple designs the software, creates the software and offers the services (mostly run on the world's biggest solar power farm). It's the "whole widget" approach once loved by Jobs, but things have moved on, Tim Cook:
" Consumers today want this elegant experience where the technology kind of floats into the background and the customer is at the centre of the experience. The real magic is at the intersection of hardware, software and services. Apple is in a position to make such magic…This isn't something you can sign a cheque for You spend decades building up the experience."
On the executive team
"When I look around the executive table I see superstars. I see people that are at the very top of their game. I see people like Jony Ive, who I think has the best taste and is the best designer in the world. He's now bringing his talents to our interfaces that I'm excited about…. I see all these guys who are so focused on product and at the top of their game and it's a privilege to be part of that."
"The people I work with don't view that there are limits."
On smartphones
"I see a market that's is incredible to be in, maybe one of the best markets of all time."
"This may surprise you, but iPhone is only available to maybe 50% of subscribers in the world. There's enormous opportunity."
On cheap smartphones
"This is a popular question. Our North Star is great products, so when everyone comes to work every day they are thinking of that. We wouldn't do anything if we didn't think it was a great product, that's not why we're on this Earth. There are other company's who do this, but that's not us."
"Looking back, when we came up with iPod it was $399. Now you can get [an iPod nano] for $149…instead of asking "How can we make it cheaper", we ask, "How can we make a great product."
(Author's opinion: When Apple does eventually diversify its iPhone range with a product that's worth having in its own right, don't be too surprised, OK?)
On cheap Macs
"The truth is we worked on a sub-$500 Mac but we concluded we couldn't make a great product."
On iPads
"Across last year there were more iPads sold than HP sold in PCs across their entire line-up. There has been a sea change here, and we're early in this game. …The industry is expected to triple in the next few years. That's more than the number of PCs sold in the world."
"I think this is going to be the mother of all markets."
On iOS v Android
"I've no ideas what [tablet] marketshare is as we're the only company who comes out with the actual number of products we sell, but when it comes to usage…
"…on Black Friday the product there was the most online shopping done on was an iPad. It was twice as large as the total of every Android device …The data is very clear that customers use them a lot more….I'm not sure what people are doing with those other products."
On innovation
"There's no better place for innovation. Apple is the center for innovation. There's no formula, if there were a lot of firms with a lot of money would go out and buy the formula."
"We are disciplined and thoughtful and we don't feel pressure to just go out and acquire revenue, we want to make great products….if [acquiring] a big company helped us do that, we'd look at it. The cash isn't burning a hole in our pockets."
"We're not a hardware company"
Cook noted that Apple isn't a hardware company three times. He observed that the company's software and services revenue in the last quarter hit $3.7b. While that doesn't get much attention when it comes to Apple's results, in contrast to other software and services firms, "that's an incredible amount of revenue," he said.
"We don't look at the sale of the product as the last part of our relationship with the customer, it's the first."
On retail
Apple will close twenty stores which are no longer large enough to cope with store traffic in order to replace them with larger shops, Cook said. The company also plans its first retail store in Turkey. But he had some interesting reflections on the role of the retail arm.
"I don't think we would have been nearly as successful with iPad if it weren't for our stores," he said.
The notion of a tablet at the time was of some heavy device "the Hertz guy was holding". No one wanted one of these. The retail stores gave customers the chance to get hands-on time with the products to get to grips with what they do.
With 370 million customers passing through Apple's retail stores last year, Cook sees an "incredible competitive advantage" to the chain when it comes to "educating people" into new product categories.
Note: The above is not a full or perfect transcript and some statements are truncated, but I think it gives you a good five-minute briefing of some of what was said. Apple shares are trading down a couple of percentage points this morning.
Got a story? Drop me a line via Twitter or in comments below and let me know. I'd like it if you chose to follow me on Twitter so I can let you know when these items are published here first on Computerworld.