Video is everywhere. TV, online, advertising, even billboards. Cisco claims video already accounts for the majority of Internet traffic. Today YouTube's founders launched a video blogging service for iOS (Android to follow). So, what's it for?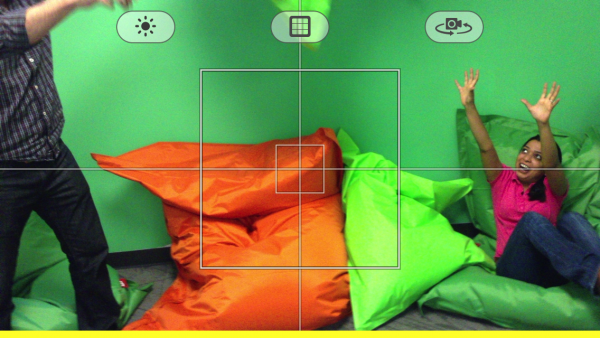 The power of now
Vblogs aren't lengthy videos, they are usually short snippets designed to get the point across. However, most existing services don't yet offer the kind of editing tools users might need in order to take incredibly short form videos and transform them into an art form -- and that's where MixBit steps in.
Created by YouTube founders, Chad Hurley and Steve Chen, the service lest users create up to 16-second bursts of video, which can them be mixed and edited into shape. The app lets users edit each 16-second clip and also allows up to 256 of these to be combined into an hour long video.
"We started YouTube to make it easy for everyone to share videos. Now we want to help people make great videos," the founders explain.
The evolution of video online is exponential.
YouTube isn't the only way today's digital natives attempt to engage with each other. Video blogging (vBlogging) may be in its infancy, but it's a growing trend that mirrors the increasing use of video conferencing within the enterprise space.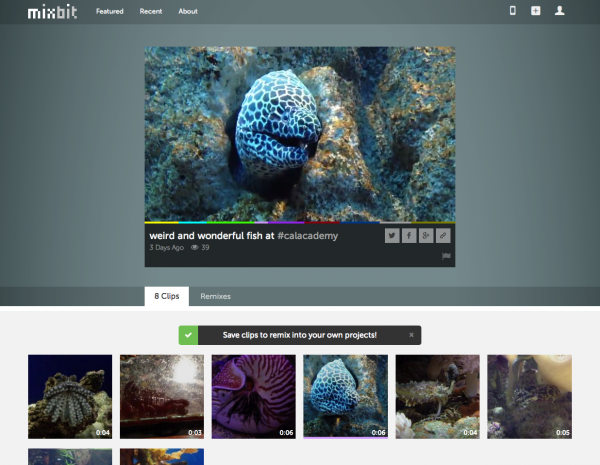 [ABOVE: MixBit also has a Web-based interface.]
Video for the people
MixBit is all about taking personally made short form movies and broadcasting them creatively. It's all about engagement, and that's why the final results can be shared across a range of social networks, including Twitter, Facebook, Google Plus or MixBit's own website.
In some sense the service isn't that new. Alternative vBlogging services include Instagram, Vine, Pheed, Keek, and Viddy. These seem popular among 13-25-year-olds (as of July, 2012, 85% of the Keek community was between the ages of 13-25), all have a social element, and some (Pheed in particular) even let users make money if they create popular content.
That's not to say MixBit's going to be a big earner, at least, not yet. Chad Hurley today wrote:
"We want to remove the barriers to video creation. That means giving people intuitive and flexible recording and remixing tools so it's easier than ever to tell meaningful stories through video. It means inventing new ways to encourage and enable people to collaborate with each other. And it also means exploring new approaches to identity, such as letting people upload videos without forcing them to sign up."
This suggests the company hasn't yet implemented its (certain to exist) vision of how to monetize the content that will be circulated via the service.
Complex immediacy?
The one thing that may be in the way of success may be the nature of the crowd currently using services of this kind. One of the bigger criticisms of Viddy (a service offering similar complexity in terms of video creation) is the time it takes to create clips.
"I've tried Viddy and the issue I had with the product was that it placed way to much emphasis on building the perfect clip… Every time I went to shoot something on Viddy I just found myself never posting it because I was unhappy with the quality (I basically overcomplicated it nearly every time)," a commenter wrote on a related report on The Verge.
"I like Vine cause it takes me only a moment to shoot a messy fun clip. If its kind of crap then I don't care as it only took me a few seconds to shoot and upload."
The challenge MixBit faces will be its ability to enable near instant video blogs for the young audience currently using tools like these to communicate with friends while also nurturing users into more creative self-expression using these tools.
What's also interesting is that the founders of the service seem keen to use existing social networking services in order to gather an audience for its app. Surely it's only a question of time until Facebook's Instagram allows people to create short clips for use as Facebook profile pictures, for example?
Either way, the service is entering a nascent market segment that's likely to spawn interesting results, given its deep integration with popular social media services.
It's yet another example of how apps offer up mobile device users an ever more individualized experience. It seems to me that the big hitters (Apple, Google) will be watching the evolution of video blogging with great interest as they seek the next big market driver to attract younger consumers to their platforms.
Got a story? Drop me a line via Twitter or in comments below and let me know. I'd like it if you chose to follow me on Twitter so I can let you know when these items are published here first on Computerworld.