The tech world's been a-buzzin' this week with word of a new Chrome-based message center from Google. Signs of the system first showed up in a Chrome OS screenshot captured by developer François Beaufort and shared on Google+.
I've had a chance to play with the system on a Chrome OS device via a demo app built by Google for internal testing. The app -- the same that Beaufort showed in his original screenshots -- also works on traditional PC-based installations of the Chrome browser.
So what exactly is this message center made to do? The truth is that we don't yet know. What we're seeing now is simply a demonstration of different "rich notification" templates being developed for Chrome. The system is clearly built to handle messages from a variety of services, but the only service specifically referenced in the demo is Gmail. Whether the notifications will ultimately be used to unify Google messaging services like Google Voice, Google Talk, and Google+ -- or even to house a desktop version of Google Now, as some have speculated -- is yet to be seen; they could just as easily be a framework created for the use of third-party developers.
But enough talk: Let's dive in. In Chrome OS, the message center appears in the lower-right corner of the screen, next to the system status bar and within a new chat-window-shaped icon. When a notification shows up, it's displayed in full for about 10 seconds and then hidden into the icon; clicking the icon causes all pending notifications to appear in a card-like stack.
Each notification shows a small thumbnail image along with a headline and short snippet of text. In the sample Gmail notifications, the snippet includes the sender of each new email and a small excerpt from the message.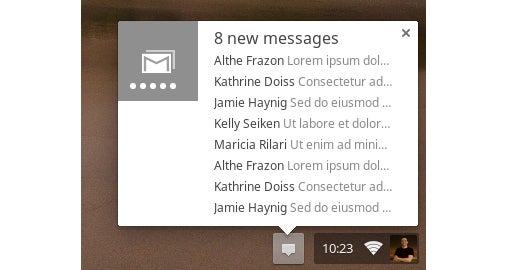 Some notifications look like they're made for a chat-oriented service, with a thumbnail of a person's face along with room for a text-based message. One template even includes built-in commands to call or email the person on the other end.
This notification shows a template for shared images from a contact: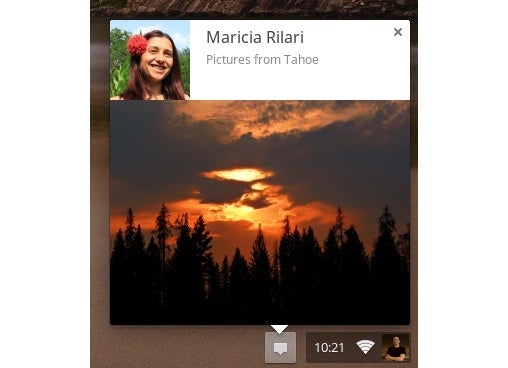 Any notification can be dismissed via a small "x" at the top-right of its box (sorry, Android fans: Even though the notification boxes look very much like Android 4.1's Google Now cards, there's no swipe-to-dismiss functionality here). You can clear all pending notifications at once via a "Clear All" command at the bottom of the panel.
Within the control panel of the demo app -- named "Notifications Galore!" -- you can see all the different types of notifications that can be triggered. "Simple notifications" and "basic notifications" are the ones that look like chat messages (except for the fruit-oriented ones -- I have no idea what those are supposed to demonstrate). "Image notifications," as you'd imagine, are the ones with shared images. And "list notifications" are the ones with multiple-element alerts, like the Gmail pop-ups with info about numerous new messages.
So there you have it: Google's new Chrome OS message center. The question now is what apps and services will end up utilizing it -- and that, my friends, is something only time will tell.
One way or another, though, it's safe to say some interesting things are on the horizon.
Computerworld Blogs Newsletter
Subscribe now to the Blogs Newsletter for a daily summary of the most recent and relevant blog posts at Computerworld.