Microsoft's just-released Office Mobile for Android is a straight-ahead, solid app that will handle most of what you need an office suite to do on your phone. But if you're expecting a knock-your-socks-off piece of mobile software, you'll be disappointed.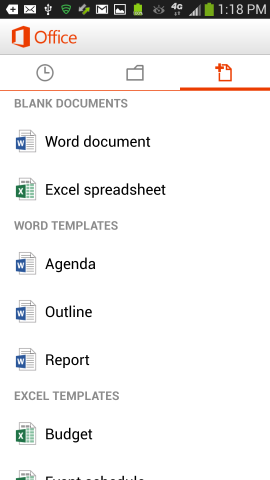 Office Mobile for Android, like the Office Mobile for the iPhone is free for Office 365 subscribers. Office 365 costs $100 per year, and lets you run Office on up to five computers as well as on up to five iOS or Android devices. You can run it on as many Windows Phone devices as you want, because it comes pre-installed on them.
If you've already used Mobile Office for iOS, you know what the Android version looks like and works like, because they have essentialy the same feature set. However, here's an instance of where size does matter. I tested the Android version on a Samsung Galaxy S4, and the app is well suited for the phone's big 5-inch screen. With that size screen, you can actually get some real work done.
The app is designed to work with your SkyDrive. So when you run the app, it opens to a list of your most recently used SkyDrive files. Tap any to open it. To view all the files on your entire SkyDrive, tap the folder icon at the top of the screen, then tap your SkyDrive. From there you can browse all of your files, not just the newest. And from there you can also add new locations for browsing files, such as Team Site and Sharepoint.
To create new files, tap the icon on the topmost right of the screen, tap the kind of document you want to create, and get to work. Especially useful is that there are pre-created templates for you, for example, a budget or mileage tracker for Excel, or an outline or report for Word.
Documents you've already created and open show up with surprising fidelity to fonts, graphic placement and so on. As they download to your phone, they're reformatted for the smaller size of the phone, so they won't look precisely as they do on a PC or laptop. That's as things should be, because of the different screen size and ratio between the two types of devices.
Editing and creating documents
You'll find the app's editing and document-creation tools to be limited. You can't for example, create PowerPoint documents; you can only create Word and Excel files. And editing PowerPoint files leaves much to be desired. You can rearrange slides and do basic things such as edit text, but not much else.
In Word, you can't choose a specific font or font size, but you can change font attributes like bold and italic. And you can make make text larger or smaller but can't set a specific font size. Excel lets you add formulas, and it's easy to navigate to different pages of a spreadsheet, but otherwise is limited.
One drawback is that you can't edit older files in .doc, .xls, and .ppt formats, although you can view them.
The takeaway
Here's the big question: Do you want to use this app? If you're already an Office 365 subcriber, the answer is clear, yes you do. After all, you've already paid for it. It's the best Office document-viewer out there. And the file-creation and file-editing tools, although fairly limited, are useful.
If you don't subscribe to Office 365, though, it's certainly not worth paying the $100 to buy a subscription. There are plenty of very good Office alternatives out there, Polaris Office, Documents to Go Premium, and QuickOffice Pro, all of which cost about $15. On some Android phones, they're even free.