Apple [AAPL] and Google [GOOG] together may account for 92 percent of smartphone users, but only Google has a privacy lawsuit against it for that company's actions in which it undermined the personal security of Safari users -- while saying it wouldn't.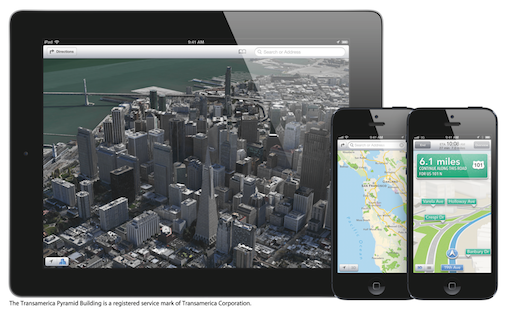 [ABOVE: Apple's Maps may not have lived up to promise, but is Google's disregard for Safari user privacy really something that should be ignored?]
Safari users browbeat Google
A group of Safari users have launched a campaign against Google's blatant disregard for individual privacy in the data age, accusing the company of actions for which it has already been fined a slight $22.5 million in the US.
Google's fault is that for almost a year between summer 2011 and spring 2012 the company by-passed Safari's security settings, ignoring those users who had asked the browser not to accept cookies, Google arrogantly undermined Apple's Internet browser to install them all the same.
Adding what appears to be a dose of dishonesty to its dealings with surfers, the company meanwhile assured users this was not happening. The information it gathered was used to target advertising at privacy-conscious users who didn't want cookies used in this or any other way.
Judith Vidal-Hall, former editor of Index On Censorship magazine has launched the first legal action against the firm. Campaigners have also instructed law firm, Olswang, to manage further claims made by others.
[ABOVE: Official trailer for The Watchmen. What would Alan Moore say about Google's grab for data?]
Who watches the watchmen?
Vidal-Hall told the BBC: "Google claims it does not collect personal data but doesn't say who decides what information is 'personal'."
"Whether something is private or not should be up to the Internet surfer, not Google. We are best placed to decide, not them."
"Google has a responsibility to consumers and should be accountable for the trust placed in them," said Dan Tench, a partner at Olswang, calling for the company to apologize for its actions, explain why they took place, and to compensate users impacted by its actions.
In an attempt to encourage more to complain at the firm's actions, privacy campaigners have launched a Facebook group, Safari Users Against Google's Secret Tracking.
The page puts its complaint in clear language:
"Google deliberately undermined protections on the Safari browser so that they could track users' Internet usage and to provide personally tailored advertising based on the sites previously visited. There was no way to know that Google did this. In fact, they made it clear that they did not do this on the Safari browser."
Speaking to the Telegraph, Dan Tench pointed out that actions of this nature conducted by a company of the size and extent of Google is of extreme concern:
"One of the things about this case is the ubiquity of Google. It is ever-present in our lives. The fact that they are the ones who have acted in this way is a matter of concern."
Nick Pickles, director of civil liberties campaign group Big Brother Watch, said: "This episode was no accident.
"Google tracked people when they had explicitly said they did not want to be tracked, so it's no surprise to see consumers who believe their privacy had been steamrollered by corporate greed seeking redress through the courts."
Lack of disclosure
What makes matters worse, of course, is that Google -- a company which via its Android OS is the custodian for personal security for millions of smartphone users -- didn't admit to its privacy-undermining activity before it was discovered. Instead, a researcher at Stanford University first spotted the company's snooping habit.
They found that Google used a special code to trick Safari into tracking what users were doing with their browser on an iPhone.
A Google statement released at the time provides a fairly lackluster justification for the company's actions, describing what it did as temporary and aimed only at "signed-in" Google users.
However, it doesn't take a genius that Google's provision of a plethora of online services means many users remain signed-in at all times simply because it's easier to do so than to sign-in again just to use Google+ or Docs, for example. While this doesn't force users to remain signed-in, it certainly directs user behavior.
While US legal authorities have slammed the company with only a small fine over the affair, it's open to question if this will be sufficient for iPhone users who feel their individual rights have been in some way undermined.
Are Google's profits worth more than privacy?
It's inevitable, of course, that Google will do whatever it can to maximize the value of its ads platforms. It doesn't charge for its services, nor does it charge for its OS. This means the company's entire existence is based on gathering user data in order to improve the accuracy of its targeted ads network -- its revenue depends on this.
Clearly in the UK there are Apple iPhone users who are unhappy that despite opting for a different platform and actively choosing to disable cookies on their smartphones, Google chose to take their information all the same, without informing them of its actions.
It's not the first time Google has been accused of undermining people's privacy. The company has been and remains subject to numerous investigations by data protection officials in multiple countries.
It's open to question if these privacy concerns will be something Apple can discuss in any future advertising campaigns, or if it will be of sufficient concern to divide those Android users who celebrate that platforms "open" nature from their loyalty to the Google smartphone OS.
Though in my opinion, this seeming blatant disregard for user privacy is of far greater concern than the flaws in Apple Maps.
Got a story? Drop me a line via Twitter or in comments below and let me know. I'd like it if you chose to follow me on Twitter so I can let you know when these items are published here first on Computerworld.