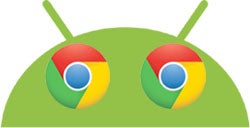 Chrome for Android is a powerful browser, but there's even more to the app than meets the eye. As of this week, Chrome for Android actually has a whole set of power-user tools just waiting to be found.
Ready to get at the goods? It's deceptively easy to do. First, you'll need to grab the recently released Chrome Beta Android app, available for any 4.x-level device. The beta version of the browser gives you access to new features and elements that haven't yet made their way to the stable channel. (And yes, you can run it alongside your regular Chrome for Android installation.)
If you already have the Chrome Beta app, make sure to head into the Google Play Store and update it; a new version released late last night enables the functionality we're after.
Got it? Good. Now open up Chrome Beta, tap on the address bar, and type in chrome://flags. Just like with the desktop Chrome browser, that command will now pop up a long list of experimental options and settings you can activate for your device.
Many of the options listed in the Chrome Android app don't yet apply to Android and consequently won't be available, but you'll see quite a few items with links to enable or adjust their parameters. A lot of them are highly technical by nature -- things like GPU settings and CSS-related options -- but even if you're aren't a hardcore hacker or developer, you might find something that catches your eye.
For example, one option allows you to "annotate Web forms with Autofill field type predictions as placeholder text." Another lets you enable cross-platform syncing of tab favicons. And another offers the ability to activate "full history sync," which lets you view and edit your complete browsing history from any synced device. 
A requisite word of warning: As the chrome://flags page makes abundantly clear, the experimental features are always subject to change -- and they're also, by their very nature, experimental (duh) and thus could cause things to act funky from time to time. In other words, this is power-user stuff we're talking about here; if you're aren't a tech-loving geek, you're probably better off sticking with the stable app and leaving this area alone.
For the adventurous among us, though, Chrome's flags are a fun realm to explore -- and now that they've reached the mobile world, there's plenty of fresh Android power to embrace.
More Android Power tips and tricks:
• Supercharge your Android search experience
• Put a phone dialer on your Android home screen (or lock screen)
• How to make the hottest Android home screens