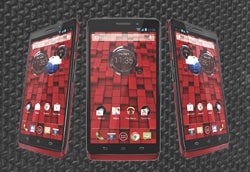 So here we are, just over a week until Motorola unveils the first flagship phone of its Google-owned era -- the heavily hyped Moto X.
Color me confused, then, as to why Verizon chose today to launch a trio of new Moto-made Droid phones for its network.
The Droid Mini, Ultra, and Maxx go on sale August 20th for $99, $199, and $299, the carrier announced during a press event this afternoon. Those prices require new two-year contracts, of course; the phones' full retail prices are $499, $599, and $699, according to information obtained by GigaOm's Kevin Tofel.
The new Droid devices seem nice enough: They all boast unibody Kevlar constructions, 720p displays, and the promise of excellent battery life -- ridiculously excellent battery life in the case of the Maxx, which is listed for a whopping 48 hours of use (!).
The simplest way to think of the phones is as an evolution of last year's Droid Razr M, Droid Razr HD, and Droid Razr Maxx HD devices; they retain the basic concept of those devices but add in more current hardware and a taste of Motorola's new software enhancements -- things like always-on voice control and active on-screen notifications.
But with the long-anticipated Moto X monster right around the corner, it's hard to make sense of these phones' arrivals. Rumor has it the Moto X will, in fact, come to Verizon -- so aside from giving Big Red a way to continue its exclusive Droid branding, what's the point of these devices showing up right now? And how do they fit into the big picture?
Remember, the Moto X is meant to be Motorola's "hero phone" -- the first phone designed completely under Google's influence (the company bought Moto about a year ago but has been burning through products that were already under development since then). Moto's said to be spending half a billion dollars on marketing for the Moto X's multicarrier launch. The phone is being touted as something special, something different, something new.
So why would Verizon launch what appear to be vaguely similar but lower priority Moto devices mere days before the X's debut? No matter how you look at it, that just seems like bad timing -- bad timing that's bound to baffle consumers and cause marketing confusion.
Keep your eyes open, gang: It's gonna be interesting to see how this one plays out.
UPDATE: Moto X vs. Droid Ultra: A real-world comparison