The Apple [AAPL] versus Samsung story really has grown old, but it seems the Korean firm has the ethics of a love-crossed stalker and really doesn't know where to draw the line -- and I think its latest copycat move is really rather vulgar as it hosts a US developer event a few hundred meters away from Apple's WWDC.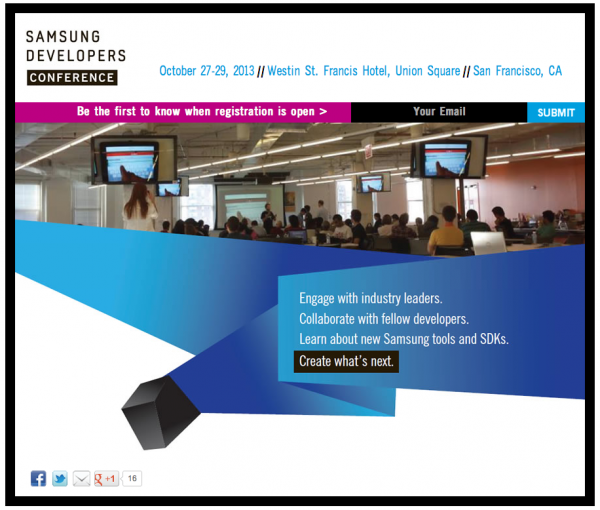 A step too far?
I could use other terms, of course: crass, unimaginative, or poor. That's my opinion. I'm certain there are others who will see its latest decision as reflective of Samsung's brave step into Apple's home turf.
So what's Samsung doing? It's holding a Samsung developer event, of course -- and given the Korean firm could host the show anywhere, it seems revealing to me that it's chosen to host the show in San Francisco's Union Square -- just a few hundred meters away from the Moscone Center Apple's made so famous with its events for the last couple of decades.
I'm sure it's just a coincidence, after all, where else might a company choose to base its North American event for developers than San Francisco?
Where's the sense in running it in Austin, Texas, where the mobile industry has an increasing presence and Samsung has a factory?
There's absolutely no way New York or Washington on the East Coast make sense.
Why would anybody travel to Seattle?
Is Apple invited?
Instead, Samsung's chosen to run its Apple competing developer evangelism event in San Francisco October 27-29, claims Ina Fried. This will, we're told, be the place for developers to gather if they hope to "engage with industry leaders" (presumably including no one from Apple), "collaborate with fellow developers" and learn about new tools and SDKs.
The event appears likely to be focused on delivering an end-to-end developmental ecosystem to foster software creation across Samsung's platforms, rather than entirely devoted to Android devices from the firm.
Speaking to AllThingsD, a source said the event: "Is more about creating ways for developers to create software across Samsung's many product areas than about signaling a new direction for its mobile efforts."
Samsung was recently reported to be closing in on a peace deal with Apple by none other than the Korea Times, so I think it a little tragic it should choose to continue in its overt anti-Apple crusade.
Marketing on steroids
Despite my disappointment at the company's vulgarity, I can't help but somewhat admire the chutzpah, it clearly believes in competing at every level with its new enemy and one time friend. It is clever marketing, that Samsung plans a show on Apple's home turf will inevitably attract some publicity.
Marketing is Samsung's ace card, of course. It spends vastly more cash on marketing than Apple, it advertises far more widely than Apple, and with this move it puts its developers squarely up against Apple's.
For all that I'm applauding its marketing genius, I do remain disappointed at the move. Does Samsung really want to be seen as a company so unconfident in its own capacity to invent that it risks being seen as a firm that even emulates Apple special events?
It makes me worry for the future in the event Samsung does consolidate its hold as the world's leading mobile manufacturer. I'd be far happier if I felt confident it would do something other than emulate -- because without competition, who would it have to imitate?
I'm beginning to wonder if its next step may even be to outfit its executive team in New Balance sneakers, blue jeans and black turtlenecks? Or perhaps it might pay people to post negative reviews on competing Websites (oh, it already did that).
The company really needs to get a grip, I feel.  
Got a story? Drop me a line via Twitter or in comments below and let me know. I'd like it if you chose to follow me on Twitter so I can let you know when these items are published here first on Computerworld.