Under the radar of yesterday's wild Apple [AAPL] speculation that iPhone sales are reeling comes an attributed story based on evidence which points out that while Samsung's Galaxy sales are booming, iPhone remains the stronger brand with one-in-two shoppers still planning to get one.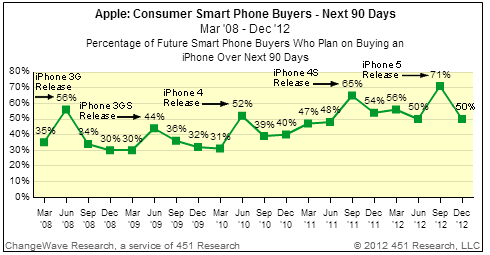 iPhone remains consumer favorite
Changewave's news here is that this level of interest in an Apple smartphone reflects historical patterns quite accurately -- interest in any new device usually wanes after the initial interest on its release, as you can see in the graph above.
"One-in-two North American respondents (50%) planning to buy a smart phone in the next 90 days say they'll get an Apple iPhone. While that's down from 71% in last quarter's survey – conducted just as the iPhone 5 was being released – historically speaking it's a solid showing for Apple," the researchers say in a press release provided to me.
Samsung's doing well, with its Galaxy S III retaining a consistent slice of the consumer markets and increasing interest in the larger Galaxy Note II.
There's some concern for Apple in the survey, as it shows that the number of shoppers planning to purchase a Samsung smartphone across the next 90-days has soared from 13 percent to 21 percent. While most of these consumers plan to buy an S III, around a quarter (23 percent) have their eyes on a Note, aka, "Phablet".
From Changewave:
"The impressive demand for the Galaxy Note II suggests the era of large-screen smart phones is upon us. Importantly, when all planned buyers were asked their screen size preference, more than one-in-four (27%) said they're most interested in a 5-inch or larger screen."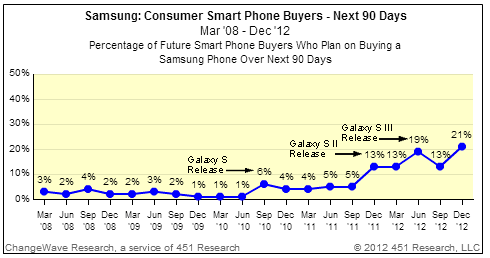 Change the game
Should Apple be worried at yet another form factor its adroit Android foe has put up against it in the market? Not according to Changewave's Paul Carton, who notes:
"With this level of consumer interest, Apple is perfectly capable of producing a large-screen smart phone that's virtually a tiny tablet – they could call it an 'iTab' – and have it on the shelves for the next Holiday season."
Will Apple do this? I consider it unlikely, as I believe it is more likely to introduce a new device designed to expand the whole category of these mobile devices. Looking at the deep competition it faces, I remain convinced the company will seek to change the underlying metaphor of what a smartphone should be in an attempt to change the rules of the game -- anyone can ship a phone with a different display size; few can reinvent the category.
Not everyone agrees, of course: ex-Apple CEO, John Sculley, shows why Steve Jobs was a good recruit for the top job when he advises his former company to follow industry trends. Apple watchers, of course, will recognize that where Sculley follows, Jobs led: Apple is at its best when it sets trends.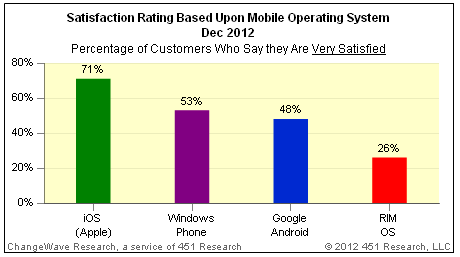 Microsoft is coming up
What the latest Changewave data does reveal, however, is that the smartphone industry has indeed become a two horse race between Apple and Samsung.
71 percent of US consumers in the market for a smartphone within the next 90 days will purchase a device from one of these two companies (two thirds of these will opt for Apple, one third for Samsung).
This leaves precious little for competitors in the current cash-strapped consumer economy. An industry, which perhaps should have been booming, is instead consolidating around a small number of household brand names.
There's potential for a third runner, Changewave observes: while iOS remains the OS which most satisfies consumers (71 percent of iOS users say they are Very Satisfied with the OS), it's Windows Phone (53 percent), not Android (48 percent, that takes second place.
This is likely to mean that consumers using a Windows Phone in preference to Apple or Android will be likely to say good things about Microsoft's new OS, and while Windows 8 sales aren't great, this does suggest Redmond has a route to avoid the company meltdown some industry watchers predict.
This is also good news for Nokia, and while you most likely won't see to many mentions of this elsewhere, it could be bad news for Samsung:
"Nokia is the biggest beneficiary of the higher Windows Phone satisfaction levels to date. The Finnish manufacturer's Very Satisfied rating jumped to 56 percent this quarter putting it in a dead heat with Samsung (55 percent) for second place – though both remain well behind Apple (70 percent), the industry leader," Changewave explains.
In other words, from a fairly shaky start, Nokia and Microsoft are beginning to make some headway persuading customers that their devices are at least as good as those from Samsung, which currently dominates the smartphone market.
Given none of these firms offer the kind of customer satisfaction Apple provides, this strongly suggests that should Microsoft begin to exceed Samsung's heavy marketing spending then there's a chance it can unseat its Korean pretender and once again reclaim its seat as Apple's number one rival.
Apple's ascendancy is on hold
The take away here has to be that while Wall Street analysts are chiming the division bell on the fate of Apple stock, the company itself continues to benefit from its strong customer relationships and ability to deliver products which please consumers. (Though Maps clearly damaged this, it didn't topple the company's lead).
Not every analyst is a herd animal, some maintain their own original perspective, such as Brian White at Topeka Capital who continues to maintain a $1,111 price target on Apple stock.
White warns that the supply chain changes that dominate the Apple news agenda this week are not surprising, given the firm cut certain component orders in December and this was already known. 
He also predicts (as I have) a deal with China Mobile and sees a huge future company opportunity on launch of the Apple television, which he says will be a "new TV experience". Though he thinks it could be a couple of years away.
The bottom line?
Apple continues to be the consumer's favorite smartphone, and while Samsung is the biggest challenger, Microsoft and Nokia are in prime position for a flank attack. Apple meanwhile already has plans to expand iPhone sales while also opening up new market sectors with an eye to a bigger prize.
Got a story? Drop me a line via Twitter or in comments below and let me know. I'd like it if you chose to follow me on Twitter so I can let you know when these items are published here first on Computerworld.