Google's Chrome for Android provides a powerful browsing experience by default -- but if you know where to look, you can unlock extra power-user features that make the browser even better.
To start, you'll need to be using the Chrome Beta version of the app. It's a separate download that gives you access to cutting-edge features before they hit the main release; some of these tweaks are currently available only in that version.
If you already have Chrome Beta installed, head into the Play Store on your device and make sure you're up to date with the most recent release; otherwise, all of these tweaks won't show up for you.
Got it? Good. Let's go:
1. Make your menu button draggable
This newest addition to Chrome Beta may be my favorite yet: Activating the experimental setting turns the overflow menu button -- the three vertical dots at the top-right of the screen -- into a swipeable command.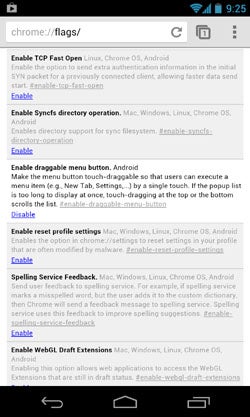 With the setting enabled, you can simply touch your finger to the icon and swipe down to access any of the functions within -- functions like opening a new tab or incognito tab, requesting desktop mode, finding text, or opening the browser's settings -- without having to lift your finger and tap again. It's a great idea that, once you've used it, just makes sense; I'm really hoping it'll make its way into the rest of Android eventually.
The setting is in Chrome's flags section. To get there, open a new browser tab within the app and type chrome://flags into the address bar. Scroll through the options (or use the browser's "find" feature) until you see one called "Enable draggable menu button." Tap the link to enable it, then restart your browser for the change to take effect.
(Note that this feature will work only on phones that follow current Android design guidelines and have no physical Menu button. Devices that utilize an old-style setup with a physical Menu button -- like most Samsung Galaxy products -- don't display an on-screen menu icon and consequently won't be able to take advantage of this option.)
2. Make Web pages accessible offline
Ever surfing the Web from your phone and suddenly find yourself in a dead-zone with no connection? This next setting will let you continue to view content, provided you've opened the page before and have a cached version of it on your device.
To enable it, head back into the Chrome flags section and find the option called "Enable offline cache mode." Tap enable and restart.
3. Let yourself zoom where you want to zoom
It drives me crazy when I'm looking at a website from my phone and the site has a mobile-specific view in place that prevents me from pinching in to zoom. How 'bout letting me decide if I want something to be bigger, Mr. Web M. Aster?
Luckily, Chrome for Android has a way for us override a site's demands and take back control. Open up the browser's main settings and tap "Accessibility," then check the option called "Force enable zoom."
That's it: You can now pinch to zoom wherever you want, whether the website technically supports the option or not. Easy enough, right?
4. Make pages load faster
Everyone wants Web pages to load faster, especially from a mobile device. Chrome has a relatively new option that compresses and optimizes content as you load it -- using Google's servers -- which makes Web browsing faster and data usage lower on your end of the deal.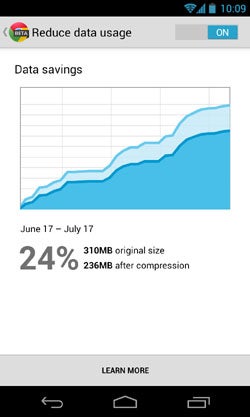 Google has a detailed description of how the system works, if you're interested, but in short, it uses proxy servers hosted by Google to handle all your nonsecure (http) requests. The servers optimize each individual asset you load and fire 'em all back to your phone faster than you can say "Safari suckfest."
To try it out for yourself, go into the Chrome Beta settings, tap "Bandwidth management," select "Reduce data usage," and activate the toggle at the top of the screen to turn it on. After the system's been running for a while, you can head back into that same place to see how much data it's saved for you.
Not too shabby, my friends -- not too shabby at all.
More Android Power tips and tricks:
• Make Android's sharing feature even more powerful
• How to make your whole home screen look like Google Now
• Find an awesome new launcher for your Android phone