Apple [AAPL] has dominated digital music far longer than some pop careers, but this seems set to change as Amazon introduces a new cloud-based music service for CD purchasers, AutoRip.
[ABOVE: That's iTunes 11. It offers a CD "experience" with your download. Amazon offers the CD.]
Triple play
The premise is simple enough:
When you purchase a CD from Amazon the music is automatically made available for cloud-based playback via the AutoRip service. Not only that, but you can also download the music in MP3 format -- and all the music you have purchased since 1998 is covered by the deal (if licensed to be).
In other words, when you buy an album from Amazon, you get a cloud-based place from which you can stream your music; the digital version of your purchase; and the physical CD.
Music can be streamed via any Android phone or tablet, iPhone, iPod touch, Samsung TVs, Roku, Sonos, and any web browser -- and, of course, the Kindle Fire.
"Customers who have purchased AutoRip CDs at any time since Amazon first opened its Music Store in 1998 will find MP3 versions of those albums in their Cloud Player libraries," the company says within its press release.
Hear the music
You don't get this on iTunes, and Amazon isn't pulling any punches on this:
"In many cases, customers can buy an AutoRip CD, including the free digital copy, for less than they would pay for only the digital album at iTunes," Amazon explains.
There's a few warnings on the label of the tin: Not everyone has signed-up to Amazon's new service, which is currently available only in the US.
This means you won't be able to access all the music you have purchased from Amazon via AutoRip, and while the service seems likely to be extended, labels and artists will be watching to see if its introduction impacts overall revenue.
The existing catalog consists of 50,000 albums, "including titles from every major record label," Amazon explains.
"What would you say if you bought music CDs from a company 15 years ago, and then 15 years later that company licensed the rights from the record companies to give you the MP3 versions of those CDs… and then to top it off, did that for you automatically and for free?" said Jeff Bezos, Amazon.com Founder and CEO, in the release. "Well, starting today, it's available to all of our customers -- past, present, and future -- at no cost. We love these opportunities to do something unexpected for our customers."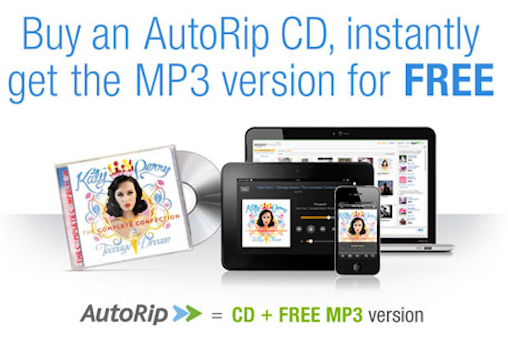 [ABOVE: This is all Amazon needs to say.]
This has got to hurt iTunes -- and others
There's no question that Amazon's move is going to impact music sales through iTunes. Given that computers fail, devices get lost and formats change, it makes more sense to get the digital download along with a CD purchase than to purchase your music solely in one of those two formats. You get the convenience of a digital download for your choice of player along with the CD, which you can stick in a box in your store room as an archive for a later date.
Amazon's move should also take the company a few steps further toward becoming the de facto destination for music sales for all platforms -- from people with CD players to those equipped with an iPad and beyond.
Android users get the relative security of the company's purchasing system; all music fans get the convenience and the security of holding their music in a relatively robust format.
It's bad news for Android device makers who had hoped to emulate Apple's approach by delivering a complete content ecosystem. Amazon is already a trusted name in retail (if not in corporation tax), device manufacturers (and I'm looking at you, Samsung) don't have the reputation of offering consumer-focused content retail systems.
This means Android device makers who may have looked forward to locking device owners into the ecosystems they are trying to build have little hope of success.
Speaking as an iTunes Store user with a huge hunger for music, I can't see the attraction of investing roughly the same amount of cash in exchange for a digital download in preference to receiving my music in both digital and physical form.
Retail wars
What is interesting to speculate upon, given Apple's position as the world's biggest music retailer, is what the labels hope to gain by toppling Cupertino in favor or Amazon? In a sense what they have done is devalue their digital property as it's now something given away with the physical release.
There's also the question of if this move will impact Spotify: I'd anticipate music fans will continue to use Spotify to explore new tracks, but will now turn to Amazon for final purchases of those they most adore.
Apple has been expected to introduce its iTunes Radio service this year, potentially in March. This is likely to offer free streamed access to a vast catalog of music. I'm wondering now if Apple's decision to move in that direction was a response to its anticipation of a decline in iTunes Music sales. If people won't purchase music from iTunes because a better deal is available (and Amazon's offer is clearly a better deal, at least at present), then the company needed to do something to maintain the relevance of its content ecosystem.
However, from my point of view, Amazon's AutoRip service is inarguably the biggest threat to Apple's iTunes I've ever seen, and I've seen a fair few.
I look forward to seeing it debut in the UK.
Got a story? Drop me a line via Twitter or in comments below and let me know. I'd like it if you chose to follow me on Twitter so I can let you know when these items are published here first on Computerworld.