Get ready for the $99 iPhone, say 'people familiar with the situation.' Apple (NASDAQ:AAPL) is said to be readying a cheaper version of its iOS smartphone. However, some say it's only for emerging markets, so good luck getting one.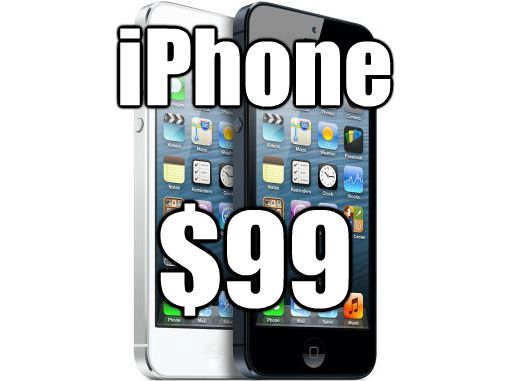 In IT Blogwatch, bloggers look up 'grey import' on Wikipedia.
Your humble blogwatcher curated these bloggy bits for your entertainment.
For Jessica E. Lessin, less is more:
[Apple's] supremacy in smartphones has slipped. ...a less expensive version of its flagship device could launch later this year...with a different, less-expensive body...made of polycarbonate plastic. ... A spokeswoman for the Cupertino, Calif., company declined to comment.

...

An onslaught of lower cost rivals powered by Google Inc.'s Android operating system are gaining market share. ... Apple [has] 14.6% of worldwide smartphone shipments, down from a peak of 23%...according to IDC. Samsung Electronics Co.'s share [is] 31.3%.  MORE
Olga Kharif and Adam Satariano swell the chorus:
[It's] part of a push to gain customers in developing nations. Apple...is weighing retail prices of $99 to $149. ... More affordable iPhones would help Apple play catch-up with smartphone makers such as Samsung. ... Apple Chief Executive Officer Tim Cook has said China is a priority.

...

Adding a less-expensive version of the iPhone would be a strategy shift for Apple, which has until now tried to appeal to more budget-conscious customers by cutting the prices of older models.  MORE
But John Gruber alleges statistical chicanery in Lessin's argument:
This makes it sound like Apple's iPhone sales peaked in 2011, but that's not true. ... Apple's share of "smartphones" dropped...because even though iPhone sales continued to grow, they didn't grow as fast as the entire handset industry's shift to smartphones.

...

Apple's share of worldwide phone shipments has done nothing but go up since 2007. [But maybe] Apple needs to introduce new lower-cost phones for this to remain true.  MORE
So Neil McAllister outlines the problem:
Apple launched its current iPhone 5 in China in December, and while sales were solid, they were hardly phenomenal. ... Meanwhile, the Chinese mobile phone market is awash with all manner of cheap kit from the likes of Huawei.

...

None of the tongues wagging about a lower-priced iPhone were able to give any concrete information on when it might ship. ... If it does move forward, however, it should do so soon, as Apple is hardly the only company with its eye on...the developing world. ... Those are billions of customers Apple can't afford to pass up.  MORE
Meanwhile, MG Siegler suggests the dead hand of Apple PR:
This report seems to surface every year. ... That said, there does seem to be more gathering momentum...this time around. I smell a faint hint of Apple.

...

I do think Apple has to be careful here. ...if such a device was popular enough, it would definitely drive down Apple's famous margins. ... Just wait until we see what the iPad mini does to the margin this quarter.  MORE
But wait! Doesn't Apple already sell older iPhone models for cheap? Here's JP Mangalindan:
Of course, Apple already sells older iPhone models at deep discounts.

...

Made to choose between an older model or a so-called "new" model at the same price point, users will spring for the latter. ...there's a certain amount of pride in purchasing the hottest device. A purpose-built cheaper iPhone would be just that.  MORE