Oh, you wanted that functionality we removed?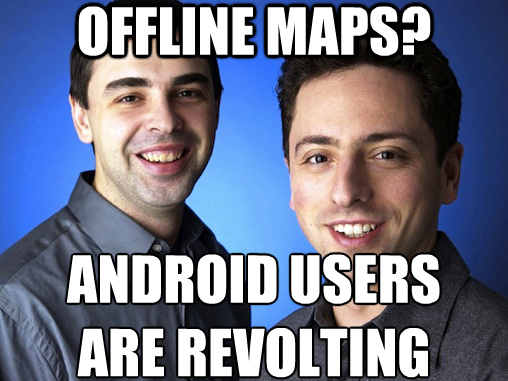 Google (NASDAQ:GOOG) released its updated Maps app for Android this week. But it's come under heavy criticism for removing some functionality. Most of the flamage has come from the lack of offline map storage. The huge ad broker promises a swift volte face.
In IT Blogwatch, bloggers bang their heads in frustration.
Your humble blogwatcher curated these bloggy bits for your entertainment.
Todd R. Weiss reports:
Google just did a complete about-face...after announcing July 10 that the latest version no longer includes...offline. ... "Based on user feedback on offline maps, we pushed an update late last night,"...a Google spokesman [said]. ... The new version, featuring the reintroduced offline maps capabilities, will begin rolling out globally.

...

In May, Google unveiled innovative updates for Google Maps at its annual Google I/O Developers Conference. ... The new Google Maps takes a novel approach to how people use online and mobile maps...making recommendations on places to visit and highlighting information that matters most during a map inquiry. [It] essentially will create a map that is unique to each user and his or her needs.  MORE
Phil Moore adds more:
Google...made a point of delivering its new Google Maps interface to Android users first, but that briefly backfired when the ability to use the Maps app while offline vanished.

...despite the initial backlash against the new Google Maps app, it may prove to be the most significant update of this week.  MORE
And Spandas Lui says the missing feature "really put a lot of panties in a twist":
Users wasted no time on posting caustic comments.  MORE
Um, yes. This is true. For example:
Kieran Short: No offline maps? That is a show stopper! How could they do such a stupid thing. ...what on earth were you thinking?

Sushubh Mittal: Who came up with this brilliant idea?

Tor Ivan Boine: Removing offline maps renders this app pretty much useless for me.

Sarfaraz Ismail: Seriously google have u gone coo coo?

Andrew Soong: Yeah don't worry everyone - Offline now has an even more half-baked implementation to go with it's unfinished design.

Dick Swingar: Are you smoking crack!? Why remove all the most useful features of the app and give us this?

Machiel van den Brink: Damn Google, what where you thinking. When trying to make it look nicer we cut off a lot of features or make them less usable.

Alex Herrero: Nice move, folks. [Offline] is not working for Buenos Aires, Argentina. Now a 15 million people city that has no useful 3G network has no way to get anywhere.

Shawn Růžek: How can you reduce functionality and call that an update? What is your solution for those of us who go to the backwoods? How can I check in to a map location without an address and view the progress of my backpacking buddies' drive to the trailhead? This is really frustrating.

longxue long: 我认为最好的,我可以到曼谷或盲的人谁使用它,不要把它浪费在其3G网络上的省份,你走吧。该区域很多。

Andrew Livingston: Google's gradual rollout plan encourages people to go third party sources for the APK. The same week as a major flaw is found in signing security, and before anyone has received a fix. Did this daft plan come out of the same heavy drinking session as actually shipping a piece of software [without] offline maps?

Miles Bader: First impression: BIG step backwards from the old maps.

Alex Bargmeyer: I liked Google maps because it had so much functionality, now it's like the dumbed down Crapple app!

Eric Stallsmith: Thankfully i am technical enough to roll back this update, but I pity the people that have to take such a step back. ... You seriously need to admit you are wrong with this google....otherwise i question your judgement.

Vincent Costa: If you use Google as your car Navigation - DO NOT UPGRADE YOUR APP. It is a hot mess.  MORE
Computerworld Blogs Newsletter
Subscribe now to the Blogs Newsletter for a daily summary of the most recent and relevant blog posts at Computerworld.