We're almost two weeks into life without Google Reader -- so are you still getting your RSS-flavored news-reading fix?
If you're like millions of Reader refugees -- myself included -- you've turned to a service called Feedly to keep up with your feeds of choice. While a handful of other RSS-reading options are out there, Feedly seems to have attracted the most folks due to its polished interface and increasingly stable multiplatform service.
One of the best things about Feedly is the fact that, like Google Reader, it lets you pick from a variety of Android apps for keeping up with your content. The service's open(ish) API means existing news reading apps can tap into its back-end to get your feeds into their interfaces, just like they used to do with Reader. 
So which are the best Android apps for following news with Feedly? Here are three excellent options, each with its own set of unique benefits:
1. Reader+
The app formerly known as Reader HD is back in action with a shortened name and new set of syncing choices. Reader+ has long been my personal favorite news-reading app because of its easy-to-use interface, its excellent in-app browser with automated mobile optimization, and -- perhaps most of all -- its outstanding customization potential.
Reader+ lets you tweak almost every aspect of the news-reading experience, ranging from fonts, colors and swipe gestures to which shortcut commands appear in which places. On my phone, for instance, I've set the reading list to have a one-tap "mark as read" command to the left of every item and a one-tap "share" command to the right, as those are the two functions I use most often from that view.
Reader+ also has an impressively diverse set of news-reading widgets, with options for a resizable scrolling-list box, a card-style stack, a rotating ticker, and a simple badge-adorned icon. The scrolling-list box is particularly useful on a tablet, where you have loads of screen space and might want instant on-screen access to your feeds. It's also available as a lock screen widget for devices running Android 4.2 or higher.
Reader+ costs two bucks.
(Note: If you had Reader+/Reader HD on your device prior to the Feedly migration, you may need to uninstall the app and do a fresh install in order for the new syncing setup to work.)
2. Press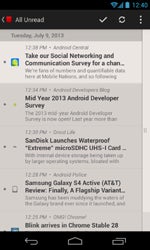 When it comes purely to user interface design, Press is one tough cookie to beat. The app has won over oodles of fans with its sleek and minimalist UI, which fits nicely into the modern Android design scheme and is really a pleasure to use.
Press offers smooth scrolling and a variety of elegant swipe-based navigation gestures -- swiping up or down in an article to progress to the previous or next item, for instance, or swiping left to move back to the main article list. The app features a nice in-app reading experience, too, though mobile optimization requires an extra tap each time you open an article.
Press has two widgets: a large scrolling-list box and a small 1x1 box that shows your total number of unread items. The large widget is also available on lock screens for 4.2+ devices.
Press costs $3.
3. Feedly
Surprised to see Feedly's own Android app in this list? You shouldn't be: The official Feedly app has actually evolved to provide a pretty good news-reading experience -- and, unlike most third-party options, it's free to use.
Feedly's app has a clean and simple interface with handy swipe gestures for things like marking individual items or entire sets of articles as read. It has a handful of customizable settings, such as a one-tap saving tool (a la Pocket) and one-tap quick-share tool (via whatever app you want).
By default, the Feedly app uses a decidedly non-Reader-like "magazine" view, but you can change that in the app's main settings; if you're used to Reader, the "title only" and "list" options are the ones you'll probably like the most.
Feedly's weakness is widgets: The app has two widgets, neither of which has ever worked in my experience. It also lacks a lock screen widget of any sort. Additionally, Feedly has yet to optimize its app for large-screen devices, so using the app on a tablet is a bit of a letdown.
On the plus side, Feedly's developers have shown themselves to be quick and nimble, with frequent updates and a strong desire to keep their users happy. It's a safe bet that the company's Android app will continue to grow with the service over time.
More Android Power tips and tricks:
• Make Android's sharing feature even more powerful
• Find an awesome new launcher for your Android phone
• How to make your whole home screen look like Google Now