A higher standard for consumer-focused personal and project organization apps for the Apple [AAPL] platforms has been set with the introduction of NoteSuite, a powerful iOS/Mac notekeeping solution that integrates support for iCloud.
User focused services
Theory.io has introduced the new suite -- which competes with Evernote, but offers many significant advantages against its competitor. The app is currently available for Mac and iPad with an iPhone version set for release later, followed by releases for other platform. Android support may lag as the developer is yet another to be turned off by the complexity of developing for that fragmented platform.
In general terms, NoteSuite could easily be considered a shining example of the kind of solutions enterprise and consumer users should seek if they want note/project management solutions in the cloud. That's because it has put a lot of thought into what its users actually need, and prioritized those needs significantly:
Data portability
Wide format support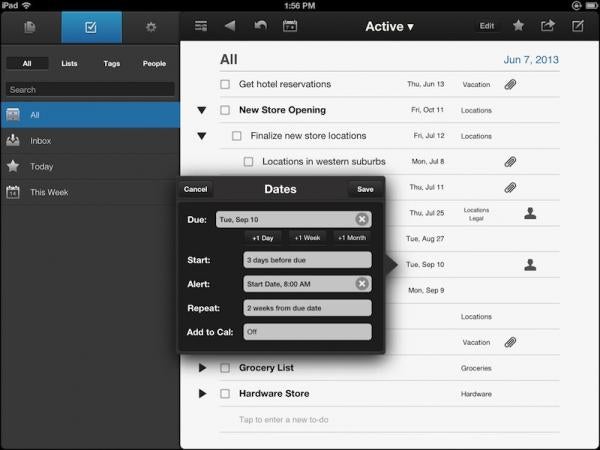 Data portability
There's a gold rush going on when it comes to enterprise and consumer class project management tools. This gold rush means there's a steady flow of services offering such solutions, which is great, unfortunately many of these services also choose to lock user data inside proprietary formats, making it difficult for customers to migrate between solutions while they search for the one they most prefer.
The significance of these lessons may not be completely apparent across the consumer market, but enterprise users who understand the need to avoid data silos are quickly recognizing them:
"The ability to avoid SaaS silos and easily obtain consistent data integration and data quality across on-premise and cloud-based data is definitely a top concern among those IT decision makers we surveyed. To address data these integration issues, BI [business intelligence] is definitely now part of the conversations we have with customers," said Host Analytics' CIO, Richard Broome.
Data portability is also important when it comes to using different systems alongside each other. 67 percent of CIOs have experienced problems integrating data between cloud-based applications, while 88 percent report challenges using these applications.
With this in mind, it's refreshing to read that NoteSuite (available for iPad and Mac):
"Does not trap users' data inside proprietary subscription-based systems. Instead, NoteSuite stores users' data safely on their iPad or Mac, employing popular cloud services for syncing and backup. This ensures users' never pay extra to access notes offline, data will not vanish if a Web service gets cancelled, access to notes will not be jeopardized by security concerns or lost Internet connections, and users' data can never get held hostage for higher fees."
That last part is also important: Consumer or CIO you need to be able to access your data and have a right to be able to predict the long term cost of any service you may use.
Theory.io President Peter Tamte told me:
"Our research shows that 62 per cent of people who take notes on mobile devices are worried about trapping their data inside a proprietary, subscription-based system. NoteSuite is the only app that lets you stay on top of everything that matters in one organized place and never lose control of your data."
Wide format support
Where some note taking apps on iOS offer a failry limited selection of supported formats, NoteSuite attempts to implement the full weight of iOS within its solution. What this means is that you can work with and store Word documents, PDF files, take notes, manage to-do lists, clip Web pages and more. You can add annotations to your collection, organize items into folders and you get built-in integration with iCal, Mail and more.
From the Press Release:
"Capture Anything: Type, make lists, take photos, record audio, and capture to-dos collectively on notes pages. The iPad version also lets users draw and handwrite directly on notes pages.

"Clip Web Pages. Save clutter-free, fully searchable articles, shopping pages, recipes, and PDFs directly from the web into the app to enjoy anytime, anywhere - even offline.

"Manage To-dos. Track due dates and start dates, set reminders, and match to-dos and projects with relevant notes and documents using comprehensive to-do management features.

"Annotate PDFs (iPad only): Markup, highlight, sign, fill out forms, type, draw freehand, write, and more on any PDF.

"Annotate Anything (iPad only): Convert MS Office and iWork documents to PDF safely offline, draw or type directly on photos, and convert PowerPoint slides into notes pages for note taking during meetings and lectures.

"Read and Search Documents: Read and search Word docs, PowerPoint files, PDFs, notes, web clips, and to-dos.

"Find Things That Aren't Organized: Find notes, Word docs, PDFs, and PowerPoint files even if they haven't been tagged or filed in folders, and without having to remember keywords.

"Sync Across Devices: Tapping one button allows users to sync data automatically via iCloud from that point forward, without creating a new account or remembering more passwords."
These features all sound pretty promising, but the developer has put time into extending the utility of them. For example, the company has developed both search and natural language technologies to search across any of the content you have stored in the app. You can also add search terms to folders, which should make it easy to track relevant assets between different collections of data. The app also offers smart folder support, meaning you can track disparate project or customer files.
The BYOD poster child
Interviewed by Forbes, Theory.io CEO, Peter Tamte, made a few apposite points about the app when asked if it is aimed at consumer or enterprise users:
"Our initial focus is aimed more at consumers. But, we believe our ability to let organizations control where their data is stored will be especially appealing to enterprises. This being said, it's a BYOD world now, so we need to get traction with users first."
Tamte's words reflect my expectation as to the future evolution of enterprise software. It's clear to me that as BYOD proliferates, enterprise users will begin to insist on similar freedoms when it comes to their choice of app. In future, as SAAS and PAAS models also proliferate, app choices will mean far less than usability and ease of deployment.
Those involved in decision-making in the enterprise space are beginning to recognize the inherent challenge with system deployment in the enterprise. On the one hand they are putting shiny tools (such as Office's Yammer support) in place, but then face the challenge of convincing employees to use these tools.
Prevailing wisdom suggests use of these tools needs to start at the top as management structures evolve from hierarchical organization to autonomous groups pursuing shared targets. Success in enterprise app deployment demands the tools provided be as well liked as the devices people choose to use them on.
This means the future of enterprise software will depend on data portability, slick user experiences, comprehensible tools and feature sets, and user satisfaction. The days during which technologists attempted to justify their solutions by making them hard to use are coming to an end. The notion that work-related apps should be overly complex solely because they are work-related is fading to be replaced by a philosophy in which enterprise class apps are expected to be fun and easy to use.
Within these parameters, NoteSuite has a chance to become a poster child for the future of enterprise and consumer productivity software.
The only danger in the future evolution of such solutions will of course be that of data security. Can enterprise or consumer users truly accept the routine surveillance of the NSA and other governments on their personal and business-related data?
Got a story? Drop me a line via Twitter or in comments below and let me know. I'd like it if you chose to follow me on Twitter so I can let you knowwhen these items are published here first on Computerworld.