Google's new Galaxy S4 and HTC One "Google Play Edition" phones go on sale today -- and in an unexpected twist, the devices are giving us a glimpse at some subtle changes that appear to be on the way to Android.
I've been using both phones for about a day now (see "What the Galaxy S4 and HTC One Google Play Editions are actually like to use" for a detailed look at my experiences). While both phones are running Android 4.2.2 -- the most current version of the operating system and the same version that's on devices like the Nexus 4 -- they're using a slightly newer build that shows off some small but noticeable differences.
Here are some things that have caught my eye so far:
A new Camera app interface
In place of the circular series of options that appears when you touch your finger to an open area in the current stock Android Camera app, the new Google Play Edition devices utilize an updated semicircle design -- a curved line that appears above your finger with five options.
The options, in order, are toggling HDR mode, adjusting the exposure, accessing more options, adjusting the flash mode, and switching between the front and rear camera.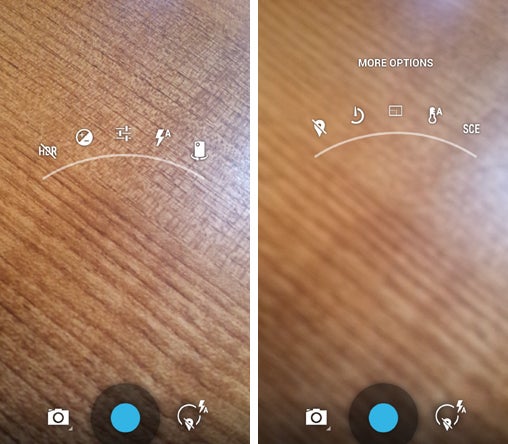 When you move your finger over "More Options," a new semicircle appears slightly higher up on the screen with five new choices: toggling whether location data is stored with images, activating a countdown timer, adjusting the image size, adjusting the white balance, and selecting a scene mode. Most subsequent options appear in similar semicircle UIs instead of more traditional pop-up menus; the exception, curiously, is "Picture Size," which still uses a pop-up menu (and kind of sticks out like a sore thumb as a result).
The bottom-of-screen buttons have also been repositioned to sit closer to the shutter icon instead of being justified at the far left and right edges of the phone. And the bottom-right button now shows more information, such as your current location and scene mode setting.
It's worth noting that the functionality here is no different from what we've seen before -- the scene modes, for example, are exactly the same as they are on the Nexus 4 -- it's just the interface that's been updated.
[UPDATE: I put together side-by-side comparisons showing how the Play Edition devices' camera quality compares to the original models; see the HTC One camera shootout and Galaxy S4 camera shootout for a detailed look.]
A slightly tweaked app drawer design
The app drawer on both Google Play Edition devices has been scaled down; it now has four icons in each row instead of five, as is the case on the Nexus 4. This makes for a less dense and more spaced-out appearance.
UPDATE: As evidenced by the Galaxy Nexus, this may actually be a result of the devices' display dimensions rather than any change to the OS itself.
A new live wallpaper
The default wallpaper on both the Galaxy S4 and HTC One Google Play Edition is something called Sun Beam. It's basically a red- and orange-tinted version of the Phase Beam live wallpaper that's been a part of Android for a while now.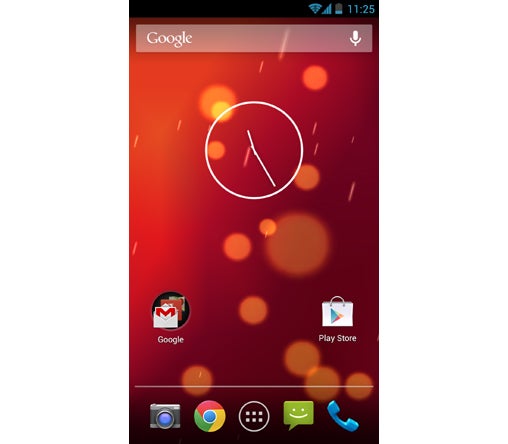 A new default lock screen clock
Remember how many people griped about the unusual half-bold style used in the default Android 4.2 lock screen clock widget? Sure, you can always replace it entirely with a third-party lock screen widget, but it looks like Google may be toying with the idea of revamping the clock on its own.
On the Google Play Edition Galaxy S4, the Android 4.2 lock screen clock we know and love (or loathe) is replaced with a more traditional-looking, right-aligned alternative. Oddly, the updated widget isn't currently present on the HTC One Play Edition device -- the two phones do have slightly different OS builds -- but one way or another, it's clearly something that Google's working on.
UPDATE: This difference may be due to the Play Edition GS4's support of Samsung's S-View flip covers, which allow the clock and other info to be displayed through a small plastic-covered window.
Google Keep as a system app
With this latest Android build, Google's new Google Keep note-taking service comes preloaded as a system-level app. That means it's there the first time you turn the phone on and, like other system-level apps, can be disabled but not uninstalled.
A different boot animation
This last one's likely something made explicitly for these Google Play Edition devices, but it's new and interesting nonetheless: a different boot animation.
It makes sense, since these aren't actually Nexus devices and thus wouldn't use the Nexus boot animation -- but also aren't traditional Samsung and HTC devices and wouldn't use those companies' animations, either.
Here's what both phones show at startup instead (this video also demonstrates the aforementioned new live wallpaper and app drawer design):
When I asked a Google spokesperson about the nature of the various UI tweaks, I was told the changes are limited to the Google Play Edition devices -- "for now." Boot animation aside, it'd sure seem logical to conclude that some of them will ultimately be integrated into the main Android build and delivered to Nexus devices, too, whether as part of a minor update or as part of a more robust OS upgrade. No matter how you look at it, it's certainly interesting to see subtle hints of change showing up in these phones; interpret as you will.
And rest assured: This is just the start of my coverage of the new Google Play Edition products. Stay tuned for a more detailed hands-on look at what it's like to use both devices and plenty more analysis over the next several days.
UPDATE: The verdict: Should you buy the GS4 and/or HTC One Google Play Edition?