Apple [AAPL] is already assembling plans for the next incremental additions to its iPad product range, including a lighter iPad and an iPad mini with improved resolution, reports Digitimes.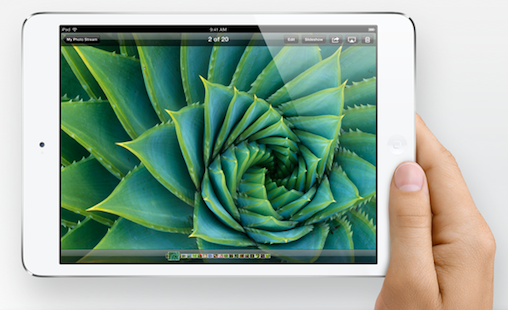 Inevitability
That's not unexpected.
Apple product release strategy favors incremental improvement, for example: the first generation iPhone's lack of 3G set the scene for the next upgrade, which introduced it.
iPad mini owners enjoy their device, while those who don't may prefer the Retina Display of the full-size model. This morning Digitimes tells us the next-gen iPad mini will deliver a much improved display resolution.
While the report doesn't say it, this makes it likely Apple will introduce a Retina Display model in its mid-year upgrade.
The next iPad iteration will focus on mobility, meaning the 9.7-inch model will be lighter than the current edition, making use of a new LED light bar technology.
Digitime's sources also said: "Apple will restructure the lighting of the next-generation 9.7-inch iPad from two LED light bars to one in order to decrease the device's overall weight."
Battery
Recent tests by UK consumer group, Which?, found that the iPad and iPad mini already offer far better battery life than any other tablet devices available in the shops. The difference is highly significant.
The iPad Retina Display delivered 811 minutes battery life, followed by the iPad 2 with 590 minutes. The best performing Android tablet was the Sony Xperia Tablet S at 534 minutes, closely followed by the Samsung Galaxy Tab 2 10.1 (532 minutes).
"When it comes to 7-inch tablets, Apple is still ahead of the game with the new Apple iPad Mini managing over 13 hours of web browsing and more than 3 hours more than the next best challenger, the Amazon Kindle Fire HD. The Google Nexus 7 from Asus does well with a respectable 550 minutes (nine hours and 10 minutes) of Web browsing," Which? reports.
Apple seems unlikely to sacrifice its huge advantages in battery life in the next generation of its products. This means it's possible the next models will also see the company deploy some of the advanced new battery technologies it is working on.
Utility
Camera improvements also seem inevitable. These enhancements may see improvements in face and object recognition technology.
The latter may make it possible for users to identify their location (or their destination) simply by taking a picture of where they are, or analyzing an image of where they want to go, though such an improvement is more likely to emerge first in a future iPhone.
The focus on Apple's next move is inevitable. Some argue that the company may move to making more frequent improvements across its range of mobile devices; others counter that this is unlikely, as it would confuse consumers who wouldn't know when to upgrade.
Apple works to deliver significant improvements within each product enhancement. This means that even when you buy a new Mac, you already know the next Mac will offer something more. Yet Mac users remain among the most loyal in the computer industry.
This same loyalty continues to apply to Apple's mobile devices, and while competitors work to chip away at this by amplifying the company's rare mistakes -- Maps, for example -- the fact remains that its devices remain the products others hope to match.
This trend seems set to continue in 2013 on launch of the next generation of iDevices.
Got a story? Drop me a line via Twitter or in comments below and let me know. I'd like it if you chose to follow me on Twitter so I can let you know when these items are published here first on Computerworld.